Luhrs 38 Flying Bridge Cruiser

(1970)

She's not only beautiful and well built.
She's priced $15,000 under competition.

Believe me, I know what I'm talking about. I'm Lyndy Watkins, West Coast Sales Manager for Luhrs Boats.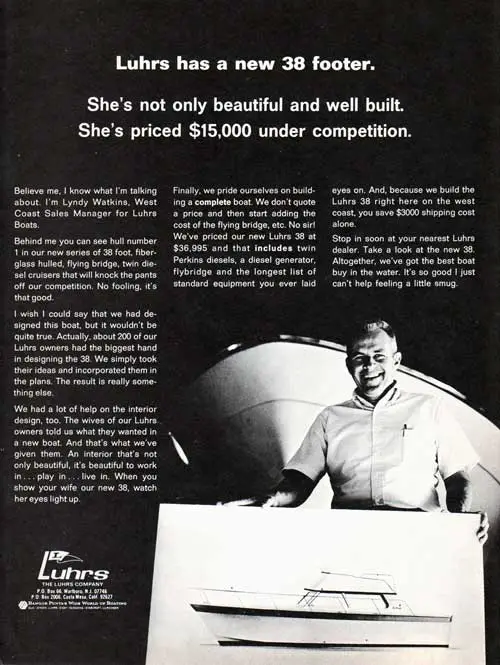 Behind me you can see hull number 1 in our new series of 38 foot, fiberglass hulled, flying bridge, twin diesel cruisers that will knock the pants off our competition. No fooling, it's that good.
I wish I could say that we had designed this boat, but it wouldn't be quite true. Actually, about 200 of our Luhrs owners had the biggest hand in designing the Luhrs 38.
We simply took their ideas and incorporated them in the plans. The result is really something else.
We had a lot of help on the interior design, too. The wives of our Luhrs _ owners told us what they wanted in a new boat. And that's what we've given them.
An interior that's not only beautiful, it's beautiful to work in ... play in ... live in. When you show your wife our new Luhrs 38, watch her eyes light up.
Finally, we pride ourselves on building a complete boat. We don't quote a price and then start adding the cost of the flying bridge, etc.
No sir! We've priced our new Luhrs 38 at $36,995 and that includes twin Perkins diesels, a diesel generator, flybridge and the longest list of standard equipment you ever laid eyes on.
And, because we build the Luhrs 38 right here on the west coast, you save $3000 shipping cost alone.
Stop in soon at your nearest Luhrs dealer. Take a look at the new Luhrs 38. Altogether, we've got the best boat buy in the water. It's so good I just can't help feeling a little smug.
THE LUHRS COMPANY
Marlboro, N.J. 07746 | Costa Mesa, Calif. 92627
BANGOR PUNTA'S Wide World of Boating
DUO / JENSEN / LUHRS/ ODAY / SEAGOING / STARCRAFT / ULRICHSEN
A Bangor Punta Company
GG Archives REF: BPLUH-005-1970-BW-AD