Luhrs 32 : You Can Still Aford A Good Boat (1975)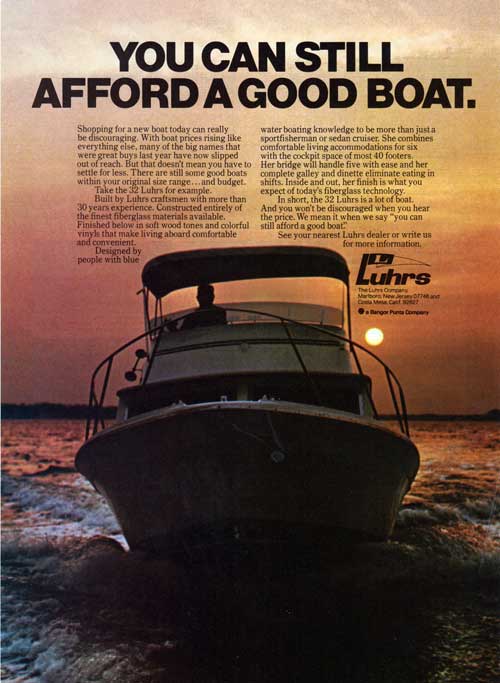 Shopping for a new boat today can really be discouraging. With boat prices rising like everything else, many of the big names that were great buys last year have now slipped out of reach.
But that doesn't mean you have to settle for less. There are still some good boats within your original size range … and budget.
Take the 32 Luhrs for example.
Built by Luhrs craftsmen with more than 30 years experience. Constructed entirely of the finest fiberglass materials available.
Finished below in soft wood tones and colorful vinyls that make living aboard comfortable and convenient.
Designed by people with blue water boating knowledge to be more than just a sportfisherman or sedan cruiser.
She combines comfortable living accommodations for six with the cockpit space of most 40 footers. Her bridge will handle five with ease and her complete galley and dinette eliminate eating in shifts. Inside and out, her finish is what you expect of today's fiberglass technology.
In short, the 32 Luhrs is a lot of boat. And you won't be discouraged when you hear the price. We mean it when we say "you can still afford a good boat."
See your nearest Luhrs dealer or write us for more information.
The Luhrs Company
Marlboro. New Jersey 07746 | Costa Mesa, Calif 92627
A Bangor Punta Company
GG Archives REF: BPLUH-024-1975-C-AD