Luhrs 32 Fiberglass Power Cruisers (1967)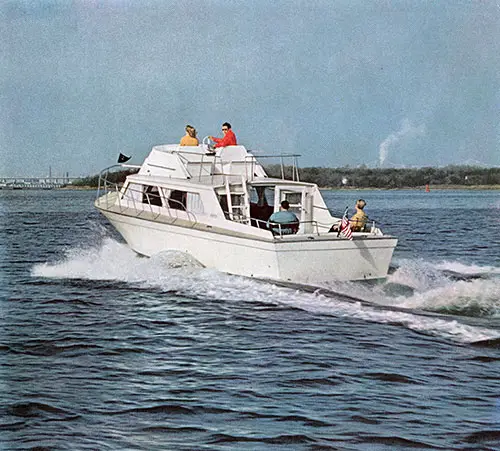 A Few Comments About Power Cruisers and Fiberglass From Two Men Who Know
HENRY LUHRS, Sr.: Easier maintenance is only one reason buyers are asking us for Fiberglas* boats.
With Fiberglas construction, we can offer better styling and combine a lower profile with a deep V hull for superior stability.
Then there's the advantage of greater strength and a seamless hull. This handsome 32' sedan carries twin diesels of greater weight and power than I'd design in other types of boats this size.
A Fiberglas hull saves weight; this means better performance for less fuel. I believe in giving boat buyers what they want—today it's Fiberglas and performance.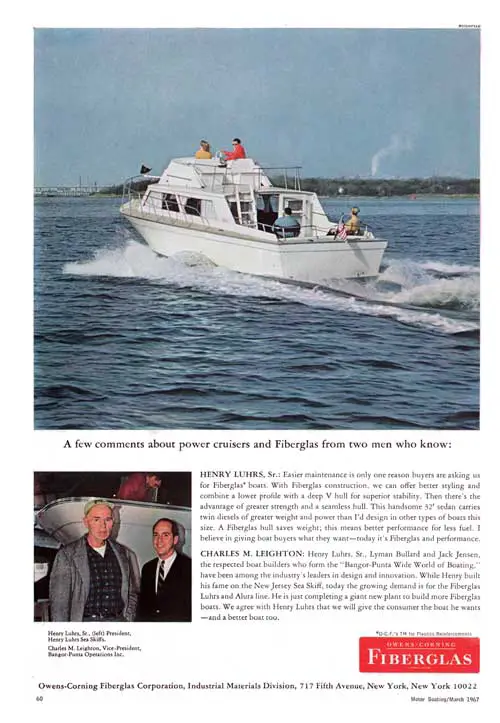 CHARLES M. LEIGHTON: Henry Luhrs, Sr., Lyman Bullard and Jack Jensen, the respected boat builders who form the "Bangor-Punta Wide World of Boating," have been among the industry's leaders in design and innovation.
While Henry built his fame on the New Jersey Sea Skiff, today the growing demand is for the Fiberglas Luhrs and Alura line. He is just completing a giant new plant to build more Fiberglas boats.
We agree with Henry Luhrs that we will give the consumer the boat he wants —and a better boat too.
Henry Luhrs, Sr., (left) President, Henry Luhrs Sea Skiffs.
*O.C.F.'s TM for Plastics Reinforcements
Charles M. Leighton, Vice-President, Bangor Punta Operations Inc.
OWENS-CORNING FIBERGLAS
Owens-Corning Fiberglas Corporation, Industrial Materials Division, New York
Luhrs Company
A Bangor Punta Company
GG Archives REF: BPLUH-002-1967-C-AD