The High Price of Fiberglass Isn't High Anymore. Luhrs 32 Sedan (1967)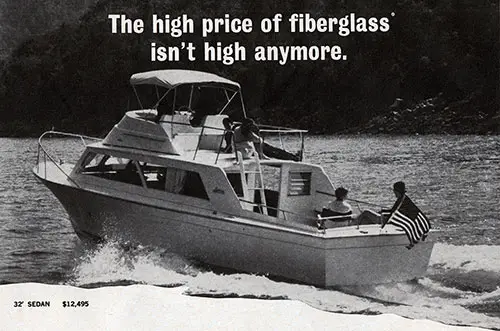 The high price of fiberglass* isn't high anymore.
32' SEDAN $12,495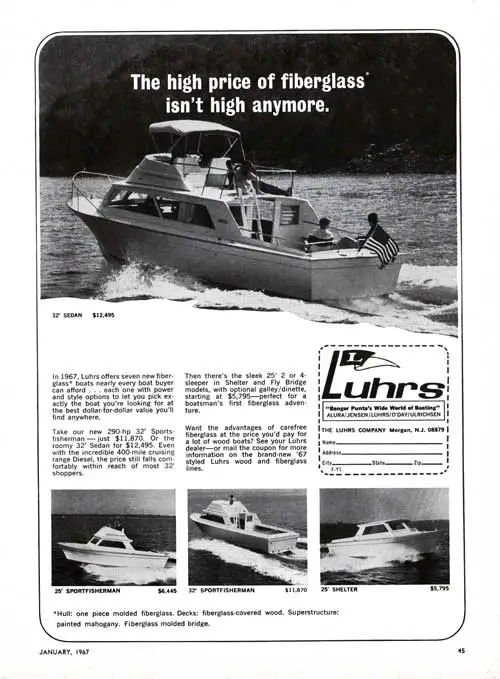 In 1967, Luhrs offers seven new fiberglass* boats nearly every boat buyer can afford . . . each one with power and style options to let you pick exactly the boat you're looking for at the best dollar-for-dollar value you'll find anywhere.
Take our new 290-hp 32' Sports-fisherman — just $11,870. Or the roomy 32' Sedan for $12,495.
Even with the incredible 400-mile cruising range Diesel, the price still falls comfortably within reach of most 32' shoppers.
Then there's the sleek 25' 2 or 4-sleeper in Shelter and Fly Bridge models, with optional galley/dinette, starting at $5,795—perfect for a boatsman's first fiberglass adventure.
Want the advantages of carefree fiberglass at the price you'd pay for a lot of wood boats? See your Luhrs dealer—or mail the coupon for more information on the brand-new '67 styled Luhrs wood and fiberglass lines.

25' SPORTFISHERMAN $6,445 | 32' SPORTFISHERMAN $11,870 | 25' SHELTER $5,795
*Hull: one piece molded fiberglass
Decks: fiberglass-covered wood
Superstructure: painted mahogany
Fiberglass molded bridge.
THE LUHRS COMPANY | Morgan, N.J. 08879
Bangor Punta's Wide World of Boating
ALURA/JENSEN/LUHRS/O'DAY/ULRICHSEN
A Bangor Punta Company
GG Archives REF: BPLUH-001-1967-AD-BW