De Fever Passagemaker 40 All Fiberglass Offshore Cruising Trawler (1973)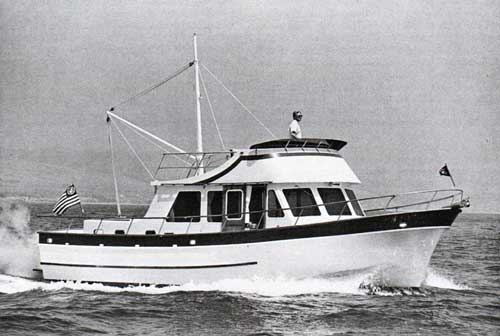 At last! The reliability of an all American, all fiberglass offshore cruising trawler!
Passagemaker 40 designed by Arthur DeFever and built by Jensen Marine in America!
Only Jensen Marine, with 12 years of experience in the craft of building ocean-going sailboats, has the know-how and skill in fiberglass construction to produce the kind of trawler you want when you go cruising offshore.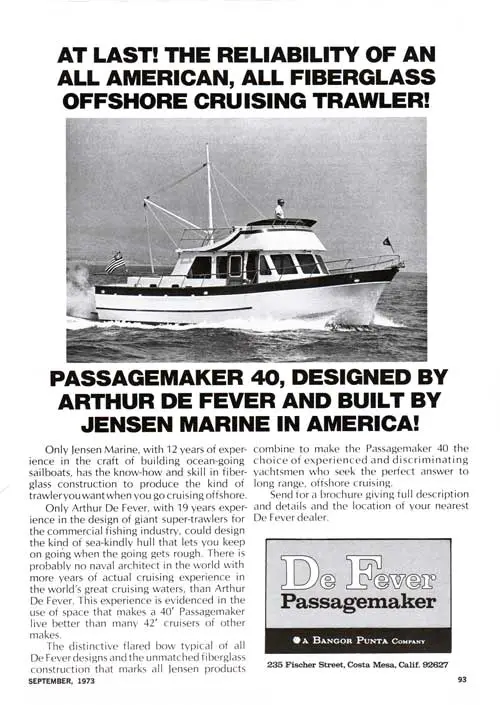 Only Arthur De Fever, with 19 years experience in the design of giant super-trawlers for the commercial fishing industry, could design the kind of sea-kindly hull that lets you keep on going when the going gets rough.
There is probably no naval architect in the world with more years of actual cruising experience in the world's great cruising waters, than Arthur De Fever.
This experience is evidenced in the use of space that makes a 40' Passagemaker live better than many 42' cruisers of other makes.
The distinctive flared bow typical of all De Fever designs and the unmatched fiberglass construction that marks all Jensen products combine to make the Passagemaker 40 the choice of experienced and discriminating yachtsmen who seek the perfect answer to long range, offshore cruising.
Send for a brochure giving full description and details and the location of your nearest De Fever dealer.
De Fever Passagemaker
Costa Mesa, Calif. 92627
A Bangor Punta Company
GG Archives REF: BPDFP-006-1973-BW-AD