De Fever 38. a Better Built, Better Designed and More Dependable Diesel Offshore Cruiser!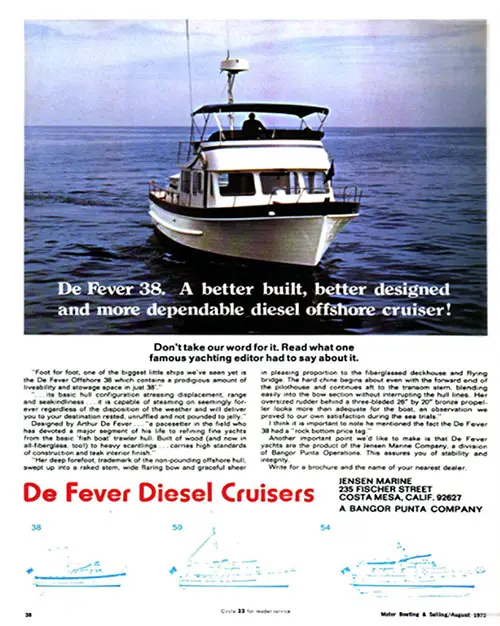 August 1972 Print Advertisement for the De Fever Diesel Cruiser -- De Fever 38, Manufactured by Jensen Marine of Costa Mesa, California, A Bangor Punta Company. GGA Image ID # 15eddaf9a9
Don't take our word for it. Read what one famous yachting editor had to say about it.
Foot for foot, one of the biggest little ships we've seen yet is the De Fever Offshore 38 which contains a prodigious amount of livability and stowage space in just 38 Feet.
".. . its basic hull configuration stressing displacement, range and sea kindliness . it is capable of steaming on seemingly forever regardless of the disposition of the weather and will deliver you to your destination rested, unruffled and not pounded to jelly.''
Designed by Arthur De Fever... "a pacesetter in the field who has devoted a major segment of his life to refining fine yachts from the basic 'fish boat' trawler hull. Built of wood (and now in all-fiberglass, tool) to heavy scantlings . . carries high standards of construction and teak interior finish."
"Her deep forefoot, trademark of the non-pounding offshore hull, swept up into a raked stem, wide flaring bow and graceful sheer in pleasing proportion to the fiberglassed deckhouse and flying bridge. The hard chine begins about even with the forward end of the pilothouse and continues aft to the transom stem, blending easily into the bow section without interrupting the hull lines. Her oversized rudder behind a three-bladed 26" by 20" bronze propeller looks more than adequate for the boat, an observation we proved to our own satisfaction during the sea trials."
I think it is important to note he mentioned the fact the De Fever 38 had a "rock bottom price tag."
Another important point we'd like to make is that De Fever yachts are the product of the Jensen Marine Company, a division of Bangor Punta Operations This assures you of stability and integrity.
Write for a brochure and the name of your nearest dealer.
De Fever Diesel Cruisers
JENSEN MARINE, COSTA MESA, CALIFORNIA
A BANGOR PUNTA COMPANY