A DeFever Passagemaker 38 in the Bahamas Out Islands. (1972)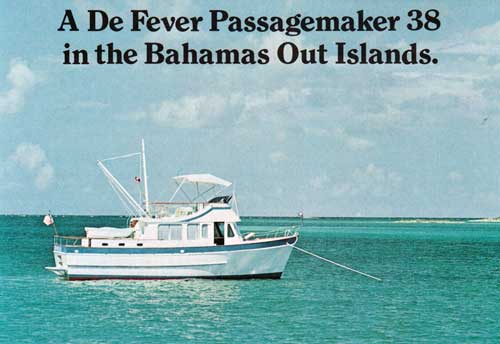 It's owner, a former racing sailor, says, "After two years of searching for the perfect boat, we bought our De Fever 38 in less than 30 minutes!"
"Let's face it, when you spend two years looking for the long-range diesel trawler that fits your needs, you're bound to have seen just about everything there is on the market."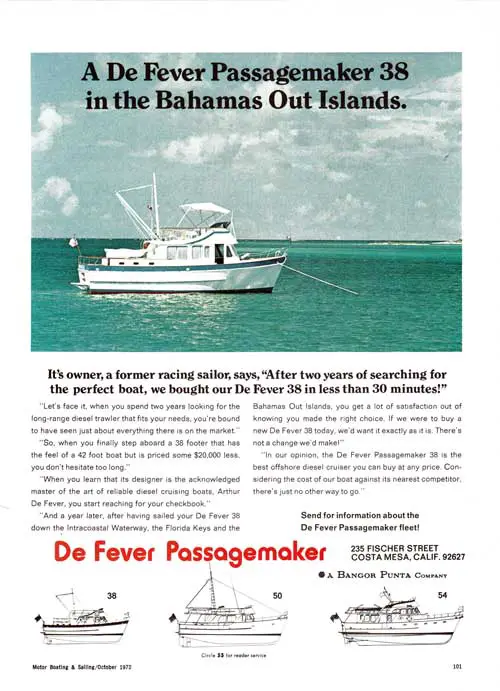 "So, when you finally step aboard a 38 footer that has the feel of a 42-foot boat but is priced some $20,000 less, you don't hesitate too long."
"When you learn that its designer is the acknowledged master of the art of reliable diesel cruising boats, Arthur De Fever, you start reaching for your checkbook."
"And a year later, after having sailed your De Fever 38 down the Intracoastal Waterway, the Florida Keys and the Bahamas Out Islands, you get a lot of satisfaction out of knowing you made the right choice.
If we were to buy a new De Fever 38 today, we'd want it exactly as it is. There's not a change we'd make!"
"In our opinion, the De Fever Passagemaker 38 is the best offshore diesel cruiser you can buy at any price. Considering the cost of our boat against its nearest competitor, there's just no other way to go."

Send for information about the De Fever Passagemaker fleet!
De Fever Passagemaker
COSTA MESA, CALIF. 92627
A Bangor Punta Company
GG Archives REF: BPDFP-002-1972-C-AD