The Unbeatable De Fever Passagemaker 40 Story! (1974)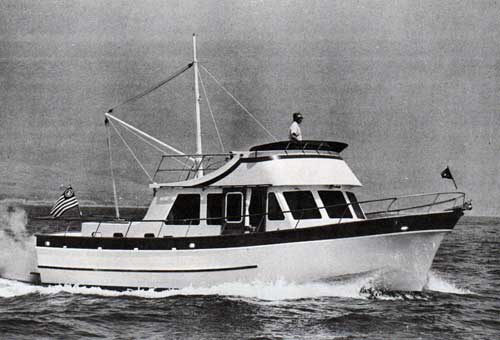 More boat for your money when you buy it!
More money for your boat when you sell it!
More miles to the gallon of reliable diesel fuel!
All fiberglass construction for low maintenance!
Built in America by respected Jensen Marine!
That's the Unbeatable De Fever Passagemaker Story!
Thanks to the genius of our designer, Naval Architect Arthur De Fever, the Passagemaker 40 gives you more usable living accommodations than our competitor's 42 footer.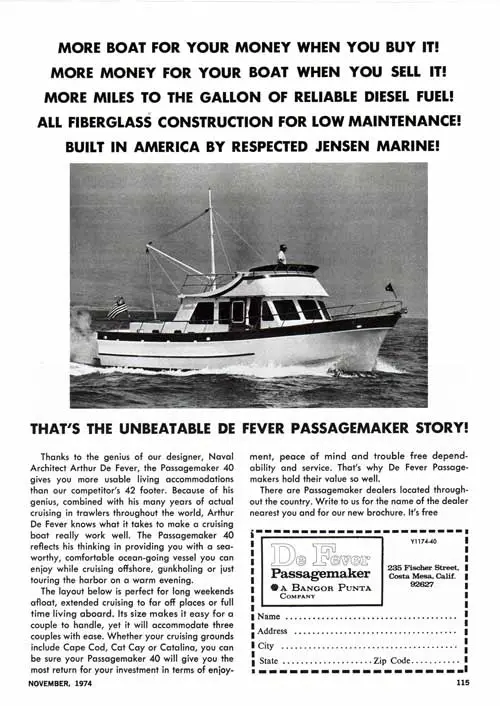 Because of his genius, combined with his many years of actual cruising in trawlers throughout the world, Arthur De Fever knows what it takes to make a cruising boat really work well.
The Passagemaker 40 reflects his thinking in providing you with a seaworthy, comfortable ocean-going vessel you can enjoy while cruising offshore, gunkholing or just touring the harbor on a warm evening.
The layout below is perfect for long weekends afloat, extended cruising to far off places or full time living aboard. Its size makes it easy for a couple to handle, yet it will accommodate three couples with ease.
Whether your cruising grounds include Cape Cod, Cat Cay or Catalina, you can be sure your Passagemaker 40 will give you the most return on your investment in terms of enjoyment, peace of mind and trouble-free dependability and service. That's why De Fever Passage-makers hold their value so well.
There are Passagemaker dealers located throughout the country. Write to us for the name of the dealer nearest you and our new brochure. It's free!
De Fever Passagemaker
Costa Mesa, California 92627
A Bangor Punta Company
GG Archives REF: BPDFP-009-1974-BW-AD