Passagemaker 34: All American, All Fiberglass Offshore Trawler (1974)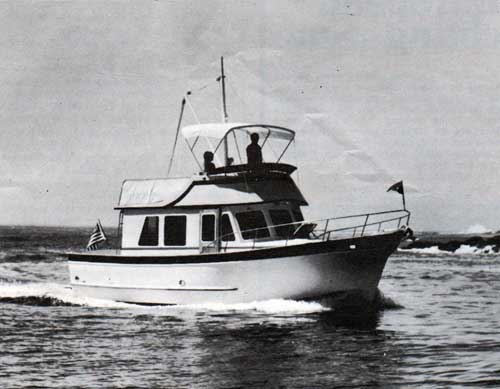 Passagemaker 34 … The All American, All Fiberglass Offshore Trawler You Can Cruise The World In With Safety, Economy, And Trouble-Free Reliability!
Arthur DeFever Designed It Like He Designs 200-Foot Tuna Clippers To Be Sure You Always Enjoy Great Cruising.
Anybody can design a boat that looks a little like a trawler … or performs a little like a trawler … or is simply called a trawler.
But it takes a naval architect like Arthur De Fever, who has spent his life designing offshore trawlers, to really know what a trawler should be if it is going to give its owner the kind of rugged, reliable, and sea kindly performance he needs to make long, offshore, deepsea passages.
It takes a boat builder like Jensen Marine to know how to take Arthur De Fever's plans and build into that boat the kind of integrity and strength and economical performance the designer had in mind.
Jensen has been building all-fiberglass, ocean-crossing sailboats for many years and knows better than any other boat builder in the world what the designer had in mind when he said, "I want this to be the finest small ocean-going yacht ever built!"
This great little trawler is the perfect boat for the couple who like to cruise alone, or with an occasional couple as guests. It is roomy and built to make full use of every square inch of space, and this gives our 34 the useability of a normal 36 footer.
But with all the room and cruising capability it offers, its size makes it ideal for a couple to handle under any conditions. Anchoring and docking are simple operations with a Passagemaker 34, and maintenance is virtually nil.
Of course, the thrifty and reliable diesel engine lets you cruise to remote anchorages, or just go off for a quiet weekend, with complete peace of mind.
Passagemaker trawlers, whatever size you may prefer, are not for those who like a high-speed, protected-water kind of cruiser. But for those who want to get away from the crowds and enjoy the getting there, nothing compares with a Passagemaker 34 or 40.
Write us, and we'll tell you where to see one in your area.
De Fever Passagemaker
Costa Mesa, California 92627
A Bangor Punta Company
GG Archives REF: BPDFP-008-1974-BW-AD