Ranger R32 - Gary Mull's 3/4 Ton Winner from Ranger Yachts (1974)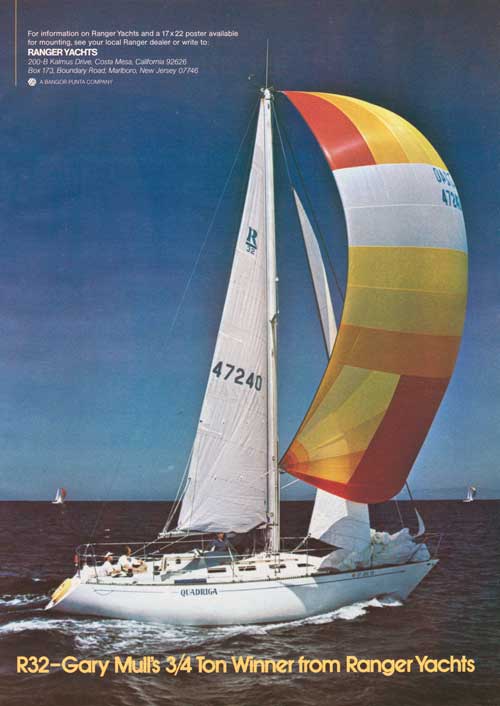 Gary Mull's Ranger 32, was an IOR 3/4 ton racing yacht winner at Miami, Florida in 1974. 147 of these yachts were produced before the design went out of production.
Built of fiberglass with a wood trim, the fractional sloop featured a fixed fin keel and had alternate power supplied by a 30 hp gasoline motor.
Cary Mull's Ranger 32 looks so much like his SORC winning Ranger One-Ton that the competition will need binoculars to tell them apart. With her tall rig and long waterline, they may need glasses to spot this 3/4-Tonner at all.
Accommodations are fairly conventional and include a double quarter berth and chart table to starboard, galley, and upper and lower berths, head and hanging locker, and easily removable double bunks to allow for sail stowage.
Her dimensions include overall length of 32' 6", waterline length of 25' 10", beam 10' 0', draft 5' 3*, 433 sq ft of sail and displacement of 9500 pounds.
For information on Ranger Yachts and a 17x22 poster available for mounting, see your local Ranger dealer or write to:
RANGER YACHTS
Costa Mesa, California 92626 | Marlboro, New Jersey 07746
A Bangor Punta Company
GG Archives REF: BPRGR-001-1974-C-AD