Ranger 33: The Performance Cruiser (1977)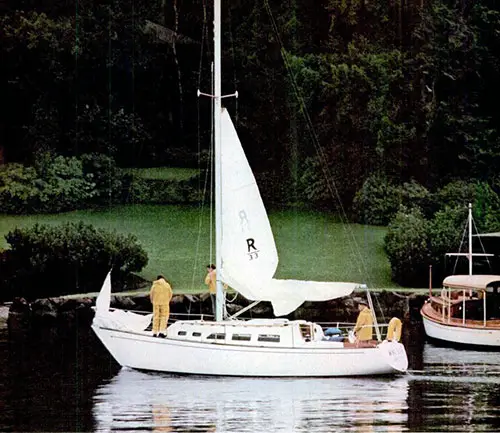 Designer Gary Mull drew up her lines. A striking, fin-keeled sloop with speed on every point of sail. A winning boat in any weather. Under any rule.
But belowdecks, Mull insisted on a cruiser's space and luxury. Because he knew that warmth and comfort are as vital to an offshore sailor as an easy helm. And that an ill-planned galley can be just as dangerous as an ill-planned deck.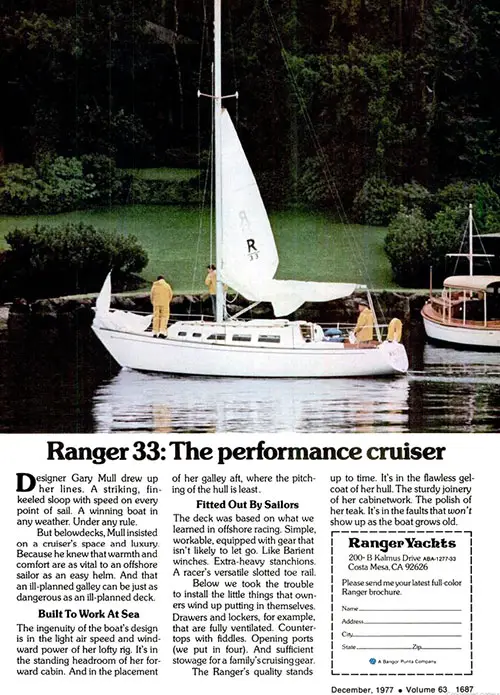 Built To Work At Sea
The ingenuity of the boat's design is in the light air speed and windward power of her lofty rig. It's in the standing headroom of her forward cabin. And in the placement of her galley aft, where the pitching of the hull is least.
Fitted Out By Sailors
The deck was based on what we learned in offshore racing. Simple, workable, equipped with gear that isn't likely to let go. Like Barient winches. Extra-heavy stanchions. A racer's versatile slotted toe rail.
Below we took the trouble to install the little things that owners wind up putting in themselves. Drawers and lockers, for example, that are fully ventilated. Countertops with fiddles. Opening ports (we put in four). And sufficient stowage for a family's cruising gear.
The Ranger's quality stands up to time. It's in the flawless gelcoat of her hull. The sturdy joinery of her cabinetwork. The polish of her teak. It's in the faults that won't show up as the boat grows old.
What Makes The Ranger 33 Special?
If you've never been aboard, you've been missing the most exciting, spirited new boat around. Gary Mull designed Ranger 33 for speed and luxury. Her sleek, light displacement hull carries a cloud of sail, enough to turn back would-be competitors; Her details and finish will please the most discriminating sailor.
She sleeps six in her large, 2-cabin interior, decorator designed in textured vinyl or fabric, with inset carpeting, and hand-oiled teak paneling. She has a private stateroom, an enclosed walk-in head, and full standing room throughout.
In the main cabin, there's a convertible dinette which seats 8, a settee which converts to a double berth, a complete galley with sink and stove well, and a separate sit-down navigator's compartment.
An Atomic 4 inboard pushes her at 7 knots.
Gary Mull Comments on His Luxury Ocean Racer: The Ranger 33
The reputation of Gary Mull as perhaps the most brilliant young yacht designer in America has reached international proportions. His success with custom boats, such as the highly advanced IMPROBABLE, has been spectacular. His success with production boats — the entire line of Ranger Yachts — has been just as spectacular.
"What I wanted to achieve with the Ranger 33 was a harmonious unity of the three elements I consider absolutely essential to any boat that can rightly be called a yacht. Those elements are comfort, speed, and beauty."
"I consider the lines of the Ranger 33 beautiful. But every curve has a functional purpose as well. Her light displacement hull moves through a heavy sea very easily and very fast. Her tall mast carries a cloud of sail. And the luxury appointments in her cabin take the discomfort out of a hard race or a long cruise. I'm very happy with the Ranger 33."
These are the comments of Gary Mull. Find out what he's talking about. Stop by your Ranger dealer and see the Ranger 33. Come aboard, and see the loveliest boat afloat. Or write for our free, full-color brochure. You won't know what you're missing until you do.
Please send me your latest full-color Ranger brochure.
Ranger Yachts
Costa Mesa, CA 92626
A Bangor Punta Company
GG Archives REF: BPRGR-007-1977-C-AD