Ranger 30: Practical Cruiser, Spirited Racer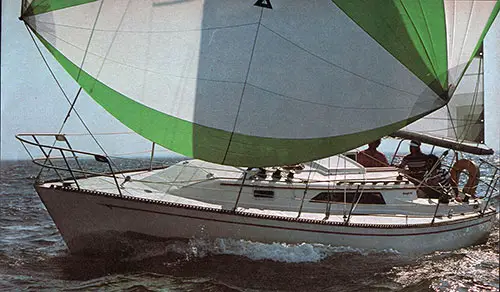 The New Ranger 30: a practical cruiser precisely because she's a spirited racer.
The things that make a winning racer can be just as vital when you cruise.
The new Ranger 30 proves it.
Consider the Ranger 30's exceptional speed (with the same long waterline the, the same high-aspect rig that mark the fastest IOR designs). Obviously, it's crucial in a race. But speed can also cut the drudgery of a lengthy crusing passage.
The Ranger 30 is comfortable. A dry, well-rested crew can be the most important "go-fast" that a racing boat can carry. And it's a vital contribution to a safe and pleasant cruise.
Racing Efficiency
The Ranger 30 is a boat a family can crew. A simple boat, easy to handle in a race. A quick, responsive boat, one you can trust in narrow channels or in rolling offshore swells.
The Ranger 30 -- racing or cruising -- has the extra-efficiency of a boat set up for serious competition.
Consider her decks: Unusually wide by the cabin sides for better footing. With a recessed foredeck locker that keeps the anchor safely out from underfoot.
Look at her deckhouse: Low for superior visibility from the cockpit. Slanted into the foredeck to make a better working platform during headsail changes and spinnaker jibes.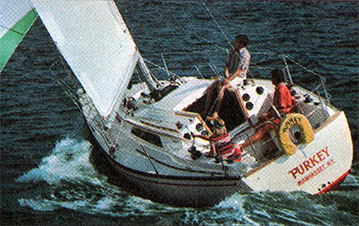 The Ranger 30's beamy hull means a roomy cockpit and lots of space below.
Cruising Comfort
As for her cockpit, it's roomier than many boats her size -- for comfort on a cruise and unrestricted crew work on the race course. "T" shaped so the skipper has a better view of the sails -- and room to stay clear of crew members cranking winches.
Below, the goal is pampering the crew. The "L" shaped galley keeps everything handy for the cook: stainless steel sink, icebox, two-burner stove (and optional oven).
The navigator's table is high enough to work at, big enough to plot a course on. And all six bunks use five-inch foam to keep you rested on your watch below.
Every inch of space below-decks is used with maximum efficiency. Lockers for food and cooking gear surround the galley. Storage bins fit under and behind the settee berths. The chart table is fitted with drawers for navigation gear, shelves for radios and instruments.
Practical Design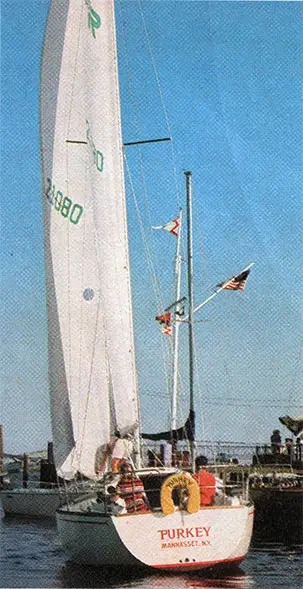 The Ranger 30 is a handsome boat -- but nothing is there for decoration. There's teak paneling in the cabin -- because the wood is tough and easy to maintain.
Expensive hand carpentry -- because that gives you stronger, lighter cabin furnishings. Sleek hull lines -- because that makes the Ranger 30 faster.
So whether you plan to race or cruise, the Ranger 30 is worth considering -- a serious cruiser precisely because she's also a competitive racer.
Dimensions:
L.O.A. 29' 11"
L.W.L. 25' 5"
Beam: 10' 9"
Draft: 5' 6"
Displacement: 9,000 Pounds
E -- 10.25'
J -- 13.5'
P -- 35.5'
I -- 41.5'
Ranger Yachts
Costa Mesa, California
A Bangor Punta Company
GG Archives REF: BPRGR-006-1977-C-AD-2