The Norsemen Started A Tradition Ulrichsen Continues (1970)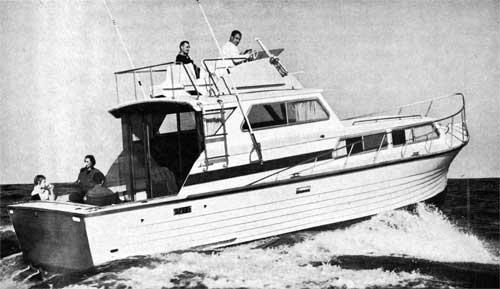 Eric the Red and Andy Ulrichsen had more in common than nationality. They both loved wood boats.
And they built them for rugged cruising beyond the twelve-mile limit.
That's why men who are serious about boating have been buying Ulrichsen's classic, all-wood Jersey skiff for over 20 years.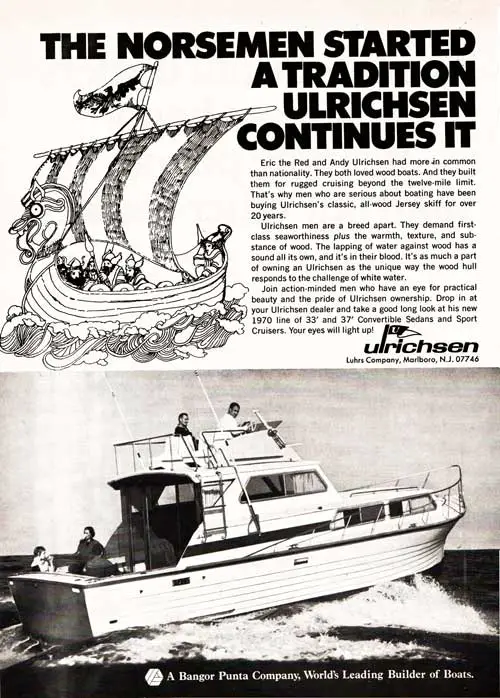 Ulrichsen men are a breed apart. They demand first-class seaworthiness plus the warmth, texture, and substance of wood.
The lapping of water against wood has a sound all its own, and it's in their blood. It's as much a part of owning an Ulrichsen as the unique way the wood hull responds to the challenge of white water.
Join action-minded men who have an eye for practical beauty and the pride of Ulrichsen ownership.
Drop in at your Ulrichsen dealer and take a good long look at his new 1970 line of 33' and 37' Convertible Sedans and Sport 5 Cruisers. Your eyes will light up!
Ulrichsen
A Bangor Punta Company
GG Archives REF: BPULR-004-1970-BW-AD