Four good reasons for looking at Alura (1969)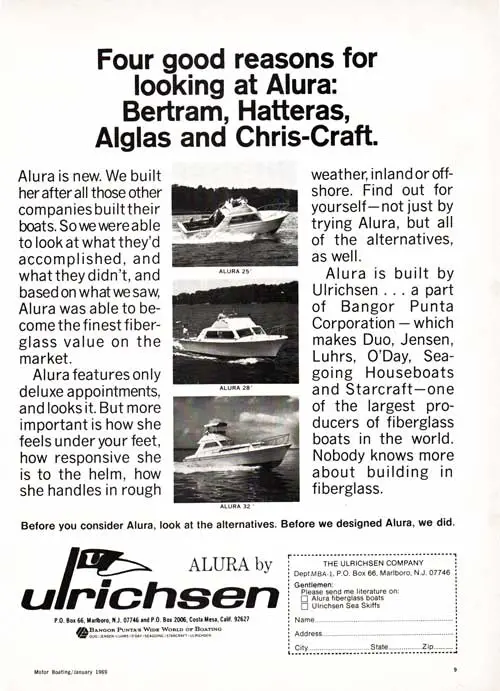 Four good reasons for looking at Alura, built by Ulrichsen: Bertram, Hatteras, Alglas and Chris-Craft.
Alura by Ulrichsen is new. We built her after all those other companies built their boats.
So we wereable to look at what they'd accomplished, and what they didn't.
Based on what we saw, Alura by Ulrichsen was able to become the finest fiberglass value on the market.
The Alura by Ulrichsen features only deluxe appointments, and looks it.
But more important is how she feels under your feet, how responsive she is to the helm, how she handles in rough weather, inland or off-shore. Find out for yourself -- not just by trying Alura, but all of the alternatives, as well.
Alura is built by Ulrichsen … a part of Bangor Punta Corporation — which makes Duo, Jensen, Luhrs, O'Day, Seagoing Houseboats and Starcraft -- one of the largest producers of fiberglass boats in the world.
Nobody knows more about building in fiberglass.
We expect you'll have to know a little something about fiberglass boats and the way they're made to appreciate Alura. And then you can't just look at a photograph, although photographs are helpful. You'll have to get aboard.
Before you consider Alura, look at the alternatives. Before we designed Alura, we did.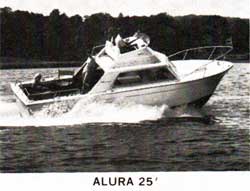 ALURA 25 Foot - A Sporty Top-Performing Powerboat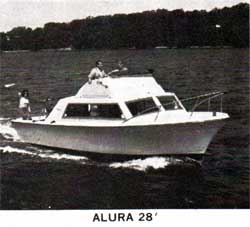 ALURA 28 Foot Powerboat - Built in the Family Tradition
Both the 25' and 28' sleep four, and they have all the things one would require for pleasurable living aboard -- galley, dinette, large cockpit, head, pleanty of storage space, and much more.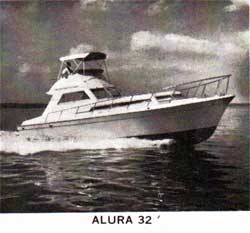 ALURA 32 Foot Powerboat
Alura is built by Ulrichsen, an that does tell you something. You've probably never seen a marina full of Ulrichsens, and you'll never see a marina full of Aluras. They're just not made that way. People have waited for Ulrichsens ... but Ulrichsens have never waited for people. So be it with Alura.
Alura may or may not be for you... only a visit to your Ulrichsen dealer can determine that. But we'll wager that in this year and in years to come, wherever boating people gather, Alura is a name that will be heard again and again.
THE ULRICHSEN COMPANY
Marlboro, N.J 07746
Gentlemen:
Please send me literature on:
Alura fiberglass boats
Ulrichsen Sea Skiffs
Name
Address
City State Zip
ALURA by Ulrichsen
Marlboro, NJ. 07746 and Costa Mesa, Calif. 92627
BANGOR PUNTA'S WIDE WORLD OF BOATING
DUO / JENSEN / LUHRS/ ODAY / SEAGOING / STARCRAFT / ULRICHSEN
Ulrichsen
A Bangor Punta Company
GG Archives REF: BPULR-001-1969-BW-AD