Ulrichsen Boats - Convertible Sedans and Trunk Cabins (1967)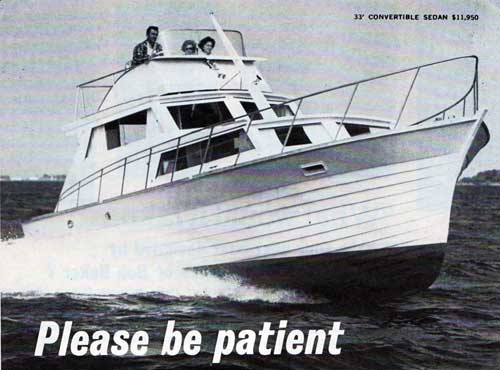 It takes time to create an Ulrichsen. So you may have to wait a little longer for one than you might for most boats.
That's why you'll never see a showroom packed window-to-wall with Ulrichsens.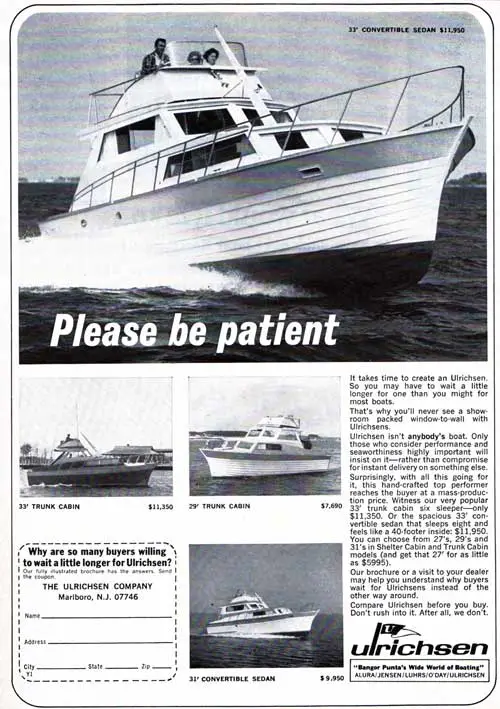 Ulrichsen isn't anybody's boat. Only those who consider performance and seaworthiness highly important will insist on it -- rather than compromise for instant delivery on something else.
Surprisingly, with all this going for it, this hand-crafted top performer reaches the buyer at a mass-production price. Witness our very popular 33 Foot Trunk Cabin six sleeper -- only $11,350.
Or the spacious 33 Foot Convertible Sedan that sleeps eight and feels like a 40-footer inside: $11,950.
You can choose from 27's, 29's and 31's in Shelter Cabin and Trunk Cabin models (and get that 27 Footer for as little as $5995).
The Ulrichsen Power Boats - 1969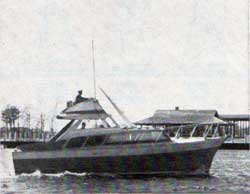 Ulrichsen's 33-Foot TRUNK CABIN sleeps six comfortably. $11,350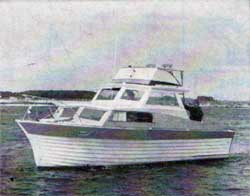 Ulrichsen's 29 Foot TRUNK CABIN sleeps four. $7,690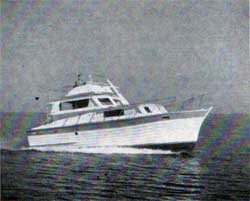 Ulrichsen's 31 Foot Convertible Sedan Powerboat with accommodations for six. $ 9,950
Why are so many buyers willing to wait a little longer for Ulrichsen?
Our fully illustrated brochure has the answers. Send the coupon.
THE ULRICHSEN COMPANY
Marlboro, NJ 07746
Our brochure or a visit to your dealer may help you understand why buyers wait for Ulrichsens instead of the other way around.
Compare Ulrichsen before you buy. Don't rush into it. After all, we don't.
Bangor Punta's Wide World of Boating"
ALURA / JENSEN / LUHRS/ O'DAY/ ULRICHSEN
Ulrichsen
A Bangor Punta Company
GG Archives REF: BPULR-003-1967-BW-AD