The Seagoing 40. A New Kind of Boat. (1970)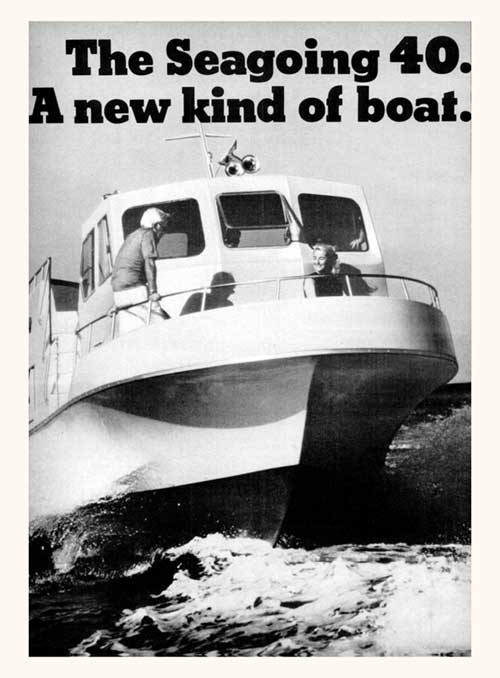 At last. A houseboat that really performs like a cruiser. And gives you more livability than any houseboat near her size.
The Seagoing 40. a New Kind of Boat.
The houseboat has always been a great idea. But let's face it, it hasn't been a great boat.
Up to now, when you chose a boat, you had to decide which you wanted more -- comfort or performance.
If you wanted comfort, you selected a houseboat and settled for slow speeds, barge-like handling and restricted cruising in calm waters. (And often you didn't get as much comfort as you expected.)
If you wanted better perfromance, you chose a cruiser. If you got one that was well designed, you certainly enjoyed better handling and sea capability. But your quarters and deck space were always confining. (Practically every cruiser owner secretly wishes he had a bigger boat.)
One way or anohter, you've had to compromise.
Up to now.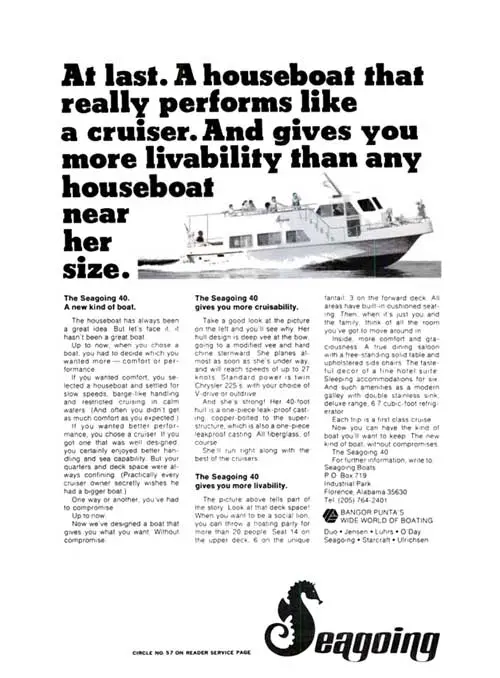 Now we've designed a boat that gives you what you want. Without compromise.
The Seagoing 40 Gives You More Cruiseability
Take a good look at the picture on the left and you'll see why.
Her hull design is deep vee ant the bow, going to a modifed vee and hard chine sternward.
She planes almost as soon as she's under way, and will reach speeds of up to 27 knots.
Standard power is twin Chrysler 225's whith your choice of V-drive or outdrive.
And she's strong! Her 40-foot hull is one-piece leak-proof casting. Copper-bolted to the superstructure, which is also a one-piece leakproof casting. All fiberglass, of course.
She'll run right along with the best of the cruisers.
The Seagoing 40 Gives You More Livability
The picture above tells part of the story. Look at that deck space! When you want ot be a social lion, you can throw a floating party for more than 20 people.
Seat 14 on the upper deck, 6 on the unique fantail, 3 on the forward deck. All areas have built-in cushioned seating. Then, when it's kust you and the family, think of all the room you've got to move around in.
Inside, more comfort and graciousness. A true dining saloon with a free-standing solid table and upholstered side chairs. The tastful decor of a fine hotel suite.
Sleeping accommodations for six. And such amenities as a modern galley with double stainless sink, deluxe range, 6.7 cubic-foot refrigerator.
Each Trip Is a First Class Cruise
Now you can have the kind of boat you'll want to keep. the new kind of boat without compromises.
The Seagoing 40.
Seagoing Boats
Florence, Alabama 35630
Bangor Punta's Wide WOrld of Boating
Duo | Jensen | Luhrs | O'Day | Seagoing | Starcraft | Ulrichsen
A Bangor Punta Company
GG Archives REF: BPSEA-002-1970-BW-AD