About Us
"Dedicated to the entrepreneurial spirit of James E. Stewart (1922-2006)"
( Lone Star Industries - Stewart Holding Company - Bangor Punta Corporation )
This section is about the defunct corporation, Bangor Punta - a diversified conglomerate that owned Piper Aviation, Smith & Wesson, Cal Yachts, Jensen Marine, Luhrs Marine Group and many others.
The images and other materials available on this site are presented for historical research and educational purposes only. The Bangor Punta site is not endorsed by any of the respective copyright owners.
The creators and maintainers of this website take no responsibility for the information provided herein. All products and brand names mentioned are trademarks or registered trademarks of their respective owners. All characters and all related slogans and indicia are trademarks of the respective copyright holders.
All materials on this website are believed to be in the public domain. The GG Archives would like to learn more about these images and hear from any copyright owners who are not properly identified on this Web site so that we may make the necessary corrections.
If you have any additional information about the images or would like to suggest a correction, please contact Paul Gjenvick at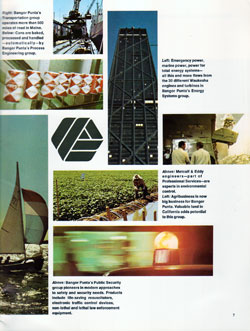 All materials on this site pertain to the Bangor Punta Era (1964-1984). Some of the companies still exist today and links to their current web sites are provided under External Resources.
Bangor Punta existed during a rapidly changing time period and much of their marketing materials are a reflection of the period for which they were originally released.
Students can make a note of the ad copy used during this period and compare it to current advertising copy. How is it similar? How does it differ, and in what respects?
The idea for this website section was to present an historical homage to a hard-charging large corporation typical of the post-WWII period.
Take a stroll down memory lane - and enjoy the ride.
In 2009 The Website and Documents became an exhibit of the Gjenvick-Gjønvik Archives (GG Archives). We do not have much information beyond what is already included on the website.