Epilogue to Marriage at Sea
It is some years now since all this happened. I have no copy of that letter, and my memory is not strong in points of this sort. I recollect, however, that after making several attempts I produced something which was brief almost to abruptness, and that it satisfied me as on the whole very well put, not wanting in a quality of what I might term mild brutality, for this was an element I could not very well manage without having regard to what I had to ask and what I had to tell.
And let this reference to that letter suffice; though I must add that I took care to enclose a copy of Captain Parsons's certificate of our marriage, with the names of those who had signed it, affirming that the marriage was good in point of law, as she might easily assure herself by consulting her solicitors, and also acquainting her in no doubtful terms that the wedding-ring was on Grace's finger and that we regarded ourselves as husband and wife.
I had scarcely dispatched this letter when Caudel was announced. He stood in the doorway, cap in hand, knuckling his forehead and backing a bit with a rolling gait, after the custom of the British merchant sailor.
"Well, Mr. Barclay, sir, and how are ye again? And how's the young lady after all these here traverses?"
I bade him sit down, pulled the bell for a glass of grog for him, and asked for news of the Spitfire.
"Well, sir," he answered, "she's just what I've come to talk to ye about. She'd started a butt, as I all along thought, otherwise she's as sound as a bell. There was a shipwright as mine down to look at her, and he asked me what we was going to do. I told him that I didn't think the gent as owned her meant to repair her.
'I rather fancy,' I says, says I, feeling my way, 'that he wants to sell her.' 'How much do"ye ask, Do you know?' says he, a-looking at the little dandy.
' I can't answer that,' says I, ' but I'm sure he'll accept any reasonable offer.' Says he, 'May I view her?' 'Certainly,' I says, says I. He thoroughly overhauled her, inside and out, and then, says he, ' I believe I can find a customer for this here craft. Suppose you go and find out what the gentleman wants, and let me know. You'll find me at" and here he names a public house."
"Get what you can for her, Caudel," I answered: "the more the better for those to whom the money will go. For my part, as you know, I consider her as at the bottom; but, since you've pulled her through, I'll ask you to pack up certain articles which are on board,—the cabin clock, the plate, my books " and I named a few other items of the little craft's internal furniture.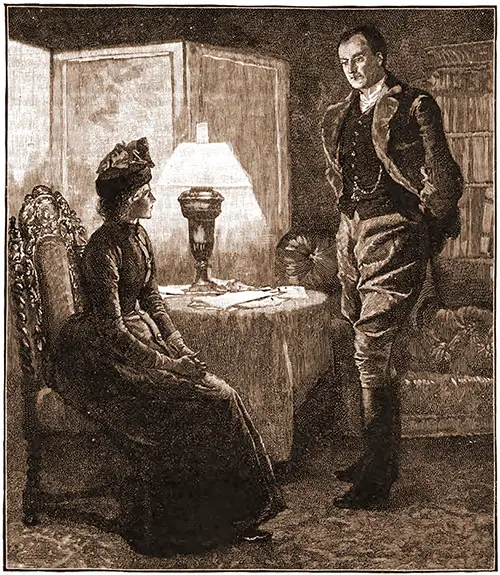 Well, he sat with me for half an hour, talking over the dandy and our adventures, then left me, and I went into the town to make a few necessary purchases, missing the society of my darling as though I had lost my right arm; indeed, I felt so wretched without her that, declining the landlord's invitation to join a select circle of Penzance wits over whom he was in the habit of presiding in the evening in a smoking-room full of the vapors of tobacco and the steam of hot rum  and whiskey, I went to bed at nine o'clock, and may say that I did not sleep the less soundly for missing the heave of the ocean.
Next morning shortly after breakfast Frank arrived to drive me over to——  Until we were clear of the town he could talk of nothing but Grace,——how sweet she was, how exquisite her breeding, how gentle. All this was as it should be, and I heard him with delight.
But to make an end, seeing that but little more remains to be told.
It was four days after our arrival at that I drove Grace over to Penzance to enable her to keep an appointment with her dress-maker.
Caudel still hung about the quaint old town, and had sent me a rude briny scrawl, half the words looking as though they had been smeared out by his little finger and the others as if they had been written by his protruded tongue, in which he said, in spelling beyond expression wonderful, that he had brought the shipwright to terms, and wished to see me.
I left Grace at the dressmaker's and walked to the address where Caudel had said I should find him. He looked highly soaped and polished, his hair shone like his boots, and he wore a new coat, with several fathoms of spotted kerchief wound round about his throat.
After we had exchanged a few sentences of greeting and good will, he addressed me thus:
"Your honor gave me leave to do the best I could with the little dandy. Well, Mr. Barclay, sir, this is what I've done; and here's the money."
He thrust his hands into the pockets of his trousers, which buttoned up square as a Dutchmen's stern after the fashion that is long likely to remain popular with the men of the Caudel breed, and pulling out a large chamois-leather bag, be extracted from it a quantity of bank-notes, very worn, greasy, and crumpled, and some sovereigns and shillings which looked as if they had been stowed away in an old stocking since the beginning of the century.
He surveyed me with a gaze of respectful triumph, perhaps watching for some expression of astonishment.
"How much have you there, Caudel ?"
"You'll scarcely credit it, sir," said he, grinning.
"But how much, man ?"  how much ?"
"One hundred and seventy-three pound, fourteen shillin', as I'm a man!" cried he, smiting the table with his immense fist.
I smiled, for, though I had bought the dandy cheap, she had cost me a very great deal more by the time she was fit to go afloat in than Caudel had received for her. But Grace was not to be kept waiting; and I rose.
"You will give what you think fair to the boy Bobby, Caudel."
He looked at me stupidly.
"Did I not tell you," said I, "that what the dandy fetched was to be yours, and that something of it was to go to the boy? As to those who deserted you, they may call upon me for their wages, but they'll get no more."
He seemed overwhelmed; and indeed his astonishment surprised me, for I had imagined my intentions with regard to the yacht were well known to him.
Grace and I returned to somewhere about four o'clock, having lunched at Penzance. We alighted at the vicarage, and entered the fragrant little dining-room. My cousin and his wife were sitting waiting for us. Sophy on our entrance started up and cried,—"Grace, here is a letter for you. I believe it is from your aunt."
My darling turned white, and I was sensible of growing very nearly as pale as she. Her hand trembled as she took the letter: she eyed me piteously, seemed-to make an effort to break the envelope, then, extending it to me, said, "I dare not read it."
I instantly tore it open, read it to myself once, then aloud:
"Lady Amelia Roscoe begs to inform her niece that she washes her hands of her. She wishes never to see nor to hear of her again. So far as Lady Amelia Roscoe's consent goes, her niece is at liberty to do what she likes and go where she likes. Any further communications which Lady, Amelia's niece may require to make must be addressed to her ladyship's solicitors, Messrs. Fox and Wyndall, Lincoln's Inn Fields."
"Thank Heaven!" I exclaimed, drawing the deepest breath I had ever fetched in my life.
"Now, Herbert, I am at your service," said Frank.
Grace was crying, and Sophy, giving her husband and me a reassuring look, with sisterly gentleness took my darling's arm and led her out of the room.
THE END.