Chapter 9: The Mermaid
When breakfast was over, Mrs. Barstow took Grace to her cabin, and there they remained. Miss Moggadore stepped up to me as I was about to go on deck, and said,—
"It is not yet too late, Mr. Barclay, and I really think it ought to be a public ceremony."
"Sooner than that, I would decline it altogether," said I, in no humor at that moment to be teased by the opinions of an acidulated spinster.
"I consider," she said, "that a wedding can never take place in too public a manner. It is proper that the whole world should know that a couple are truly man and wife."
"The whole world," said I, "in the sense of this ship, must know it, as far as I am concerned, without seeing it."
"Well," said she, with a simper which her mere streak of lip was but little fitted to contrive, "I hope you will have all happiness in your wedded lives."
I bowed, without replying, and passed up the steps, not choosing to linger longer in the face of the people who hung about me with an air of carelessness, but with faces of curiosity.
Presently I looked at my watch; a quarter to ten. Mr. Tooth strolled up to me.
"All alone, Mr. Barclay?" Tis a fact, have on noticed, that when a man is about to get married people hold off from him ?  I can understand this of a corpse; but a live young man, you know,—and only because he's going to get married!  By the way, as it is to be a private affair, I suppose there is no chance for me ?"
"The captain is the host," I answered. "He is to play the father. If he chooses to invite you, by all means be present." As I spoke, the captain came on deck, turning his head about in manifest search of me. He gravely beckoned with an air of ceremony, and Mr. Tooth and I went up to him. He looked at Mr. Tooth, who immediately said:
"Captain, a wedding at sea is good enough to remember,—something for a man to talk about. Can't I be present?" And he dropped his head on one side with an insinuating smile.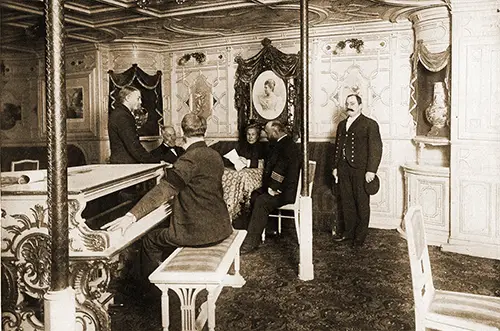 "No, sir," answered Captain Parsons, with true sea-grace, and putting his hand on my arm he carried me right aft. "The hour's at hand," said he. "Who's to be present, Do you know? for if it's to be private we don't want a crowd."
"Mrs. Barstow and Miss Moggadore; nobody else, I believe."
"Better have a couple of men as witnesses. What Do you say to Mr. Higginson ?"
"Anybody you please, captain."
"And the second ?" said he, tilting his hat and thinking. "McCosh.? Yes, I don't think we can do better than McCosh. A thoughtful Scotchman, with an excellent memory." He pulled out his watch.
"Five minutes to ten. Let us go below." And down we went.
The steward was dispatched to bring Mr. Higginson and the chief mate, Mr. McCosh, to the captain's cabin. The saloon was empty; possibly out of consideration to our feelings, the people had gone on deck or withdrawn to their berths.
"Bless me! I had quite forgotten," cried Captain Parsons, as he entered his cabin. "Have you a wedding-ring, Mr. Barclay?"
"Oh, yes," I answered, laughing, and pulling out the purse in which I kept it. "Little use in sailing away with a young lady, Captain Parsons, to get married, unless you carry the ring with you."
"Glad you have it. We can't be too shipshape. But I presume you know," said the little fellow, "that any sort of ring would do: even a curtain ring.  No occasion for the lady to wear what you slip on, though I believe it' s expected she should keep it upon her finger till the service is over. Let me see, now,—there's something else I wanted to say. Oh, yes: who's to give the bride away?"
There was a knock at the door, and Mr. Higginson, followed by Mr. McCosh, entered.
"Mr. Higginson," immediately cried the captain, "you will give the bride away."
The lawyer put his hand upon his shirt-front and bowed. I glanced at McCosh, who had scarcely had time to do more than flourish a hair-brush. He was extraordinarily grave, and turned a very literal eye round about. I asked him if he had ever before taken part in a ceremony of this sort at sea. He reflected, and answered, "No, neither at sea nor ashore."
"But, seeing that you are a witness, Mr. McCosh, you thoroughly understand the significance of the marriage service, I hope?" said Mr. Higginson, dryly.
"Do you know, then, sir," answered McCosh, in the voice of a saw going through a balk of timber, "I never read or heard a line of the marriage service in all my life. But I have a very good understanding of the object of the ceremony."
"I hope so, Mr. McCosh," said the captain, looking at him doubt fully. "it is as a witness that you're here."
"'T'will be a fact, no doubt?" said Mr. McCosh.
"' Certainly," said the lawyer.
"Then of course," said the mate, "I shall always be able to swear to it."
"Ten minutes past ten," cried the captain, whipping out his watch.
"I hope Miss Moggadore's not keeping the ladies waiting whilst she powders herself or fits a new cap to her hair."
He opened the door to call to the steward, then hopped back with a sudden convulsive sea-bow to make room for the ladies, who were approaching.
My darling was very white and looked at me piteously. She came to my side, and slipped her hand into mine, whispering under her breath, "Such a silly, senseless ceremony!" I pressed her fingers, and whispered back that the ceremony was not for us, but for Aunt Amelia.
She  wore her hat and jacket, and Mrs. Barstow was clad as for the deck; but Miss Moggadore, on the other hand, as though in justification of what the captain had said about her, made her appearance in the most extraordinary cap I had ever seen,-—an inflated arrangement, as though she were fresh from a breeze of wind that held it bladder-like. She had changed her gown, too, for a sort of Sunday dress of satin or some such material. She curtsied on entering, and  took up her position alongside of McCosh, where she stood viewing the company with an austere gaze which so harmonized with the dry, literal, sober stare of the mate that I had to turn my back upon her to save a second explosion of laughter.
"Are we all ready ?" said the little captain, in the voice of a man who might hail his mate to tell him to prepare to put the ship about, and McCosh mechanically answered,—
"Ay, ay, sir, all ready."
On this the captain went to the table, where lay a big Church Ser vice in large type, and, putting on his glasses, looked at us over them as a hint for us to take our places. He then began to read, so slowly that I foresaw, unless he skipped many of the passages, we should be detained half the morning in his cabin.
He read with extraordinary enjoyment of the sound of his own voice, and constantly lifted his eyes, whilst he delivered the sentences as though he were admonishing instead of marrying us.
Grace kept her head hung, and I felt her trembling when I took her hand. I had flattered myself that I should exhibit no nervousness in such an ordeal as this; but, though I was not sensible of any disposition to tears, I must confess that my secret agitation was incessantly prompting me to laughter of an hysterical sort, which I restrained with struggles that caused me no small suffering. It is at such times as these, perhaps, that the imagination is most inconveniently active.
The others stood behind me; I could not see them: it would have eased me, I think, had I been able to do so. The thought of McCosh's face, the fancy of Miss Moggadore's cap, grew dreadfully oppressive through my inability to vent the emotions they induced.
My distress was increased by the mate's pronunciation of the word "Amen." He was always late with it, as though waiting for the others to lead the way, unless it was that he chose to take a 'thocht' before committing himself. My wretchedness was heightened by the effect of this lonely Amen, whose belatedness he accentuated by the fervent manner in which he breathed it out.
Yet, spite of the several grotesque conditions which entered into it, this was a brief passage of experience that was by no means lacking in romantic and even poetic beauty. The flash full trembling of the sunlit sea was in the atmosphere of the cabin, and bulkhead and upper deck seemed to race with the rippling of the waves of light in them.
Through the open port came the seething and pouring song of the ocean,—the music of smiting billows, the small harmonies of foam bells and of seething eddies. There was the presence of the ocean, too, the sense of its infinity, and of the speeding ship, a speck under the heavens, yet fraught with the passions and feelings of a multitude of souls bound to a new world, fresh from a land which many of them would never again behold.
The captain took a very long time in marrying us. Had this business possessed any sort of flavor of sentiment for Grace, it must have vanished under the slow, somewhat husky, self—complacent, deep sea delivery of old Parsons. I took the liberty of pulling out my watch as a hint, but he was enjoying himself too much to be in a hurry. Nothing, I believe, could have so contributed to the felicity of this man as the prospect of uniting one or more couples every day.
On several occasions his eyes appeared to fix themselves upon Miss Moggadore, to whom he would accentuate the words be pronounced by several nods. The marriage service, as we all know, is short, yet Captain Parsons kept us an hour in his cabin listening to it.
Before reciting "All ye that are married," he hemmed loudly, and appeared to address himself exclusively to Miss Moggadore, to judge by the direction in which he continued to nod emphatically.
At last he closed his book, slowly gazing at one or the other of us over his glasses, as if to witness the effect of his reading in our faces. He then opened his official log-book, and in a whisper, as though he were in church, called Mr. Higginson and Mr. McCosh to the table to witness his entry.
Having written it, he requested the two witnesses to read it. Mr. McCosh pronounced it "arl reet," and Mr. Higginson nodded as gravely as though he were about to read a will.
"The ladies must see this entry too," said Captain Parsons, still preserving his Sabbatical tone. "Can't have too many witnesses. Never can tell what may happen."
The ladies approached and peered, and Miss Moggadore's face took on an unusually hard and acid expression as she pored upon the captain's handwriting.
"Pray read it out, Miss Moggadore," said I.
"Ay, do," exclaimed the captain.
In a thin, harsh voice, like the cheep of a sheave set revolving in a block,—wonderfully in accord, by the way, with the briny character of the ceremony,——the lady read as follows:
"10.10 A.M.—Solemnized the nuptials of Herbert Barclay, Esquire, gentleman, and Grace Bellassys, spinster. Present, Mrs. Barstow, Miss Moggadore, James Higginson, Esquire, solicitor, and Donald McCosh, Chief Officer. This marriage thus celebrated was conducted according to the rites and ceremonies of the Church of England."
"And now, Mr. Barclay," said Captain Parsons, as Miss Moggadore ,concluded, "you'd like a certificate under my hand, wouldn't you" ?
"We're not strangers to Mr. and Mrs. Barclay's views," said Mr. Higginson, "and I am certainly of opinion, Captain, that Mr. Barclay ought to have such a certificate as you suggest, that on his arrival at home he may send copies of it to those whom it concerns."
At the utterance of the words "Mr. and Mrs. Barclay" I laughed, whilst Grace started, gave me an appealing look, turned a deep red, and averted her face. The Captain produced a sheet of paper, and, after looking into a dictionary once,—-"Nothing like accuracy," said he, "in jobs of this sort,"——he asked, "Will this do ?" and thereupon read as follows:
"SHIP 'CARTHUSIAN,'
"At Sea [such and such a date].
"I, Jonathan Parsons, master of the above-named ship Carthusian of London, towards New Zealand, do hereby certify that I have this day united in the holy bonds of wedlock the following persons, to wit, Herbert Barclay, Esquire, and Grace Bellassys, spinster, in the presence of the undersigned."
"Nothing could be better," said I.
"Now, gentlemen and ladies," said the captain, "if you will, please to sign your names."
This was done, and the document handed to me. I pocketed it with a clear sense of its value,—as regards, I mean, the effect I might hope it would produce on Lady Amelia Captain Parsons and the others then shook hands with us, the two ladies kissing Grace, who, poor child, looked exceedingly frightened and pale.
"What's the French word for breakfast ?" asked Captain Parsons.
"Dejewner, sir," answered McCosh.
Parsons bent his ear with a frown. "You're giving me the Scotch for it, I believe," said be.
"It's déjeuner, I think," said I, scarce able to speak for laughing.
"Ay, that'll be it," cried the captain. "Well, as Mr. and Mrs. Barclay don't relish the notion of a public degener, we must drink their health in a bottle of champagne."
He put his head out of the cabin, and called to the steward, who brought the wine, and for hard upon half an hour my poor darling and I had to listen to speeches from old Parsons and the lawyer.
Even McCosh must talk. In slow and rugged accents he invited us to consider how fortunate we were in having fallen into the hands of Captain Parsons. Had he been master of the Carthusian there could have been no marriage, for he would not have known what to do.
He had received a valuable professional hint that morning, and he begged to thank Captain Parsons for allowing him to be present on so interesting an occasion.
This said, the proceedings ended. Mrs. Barstow, passing Grace's hand under her arm, carried her off to her cabin, and I, accepting a cigar from the captain's box, went on deck to smoke it and to see if there was anything in sight likely to carry us home.
Married! Could I believe it? If so,—-if I was indeed a wedded man,——then I suppose never in the annals of love-making could anything stranger have happened than that a young couple eloping from a French port should be blown out into the ocean and there united, not by a priest, but by a merchant skipper.
And supposing the marriage to be valid, as Mr. Higginson, after due deliberation, had declared such ocean wedding ceremonies as this to be, and supposing when we arrived ashore Lady Amelia Roscoe, despite Grace's and my association and the ceremony which had just ended, should continue to withhold her sanction, thereby rendering it impossible for my cousin to marry us, might not an exceedingly fine point arise,—something to put the wits of the lawyers to their trumps in the case of her ladyship or me going to them?
I mean this: seeing that our marriage took place at sea, seeing moreover that we were in a manner urged—or as might choose to put it, compelled—by Captain Parsons to marry, he assuming as master of the ship the position of guardian to the girl and as her guardian exhorting and hurrying us to this union for her sake,— would not the question of Lady Amelia Roscoe's consent be set aside, whether on the grounds of the peculiarity of our situation, or because it was impossible for us to communicate with her, or because the commander of the ship, a person in whom is vested the most despotic powers, politely, hospitably, but substantially too, ordered us to married?
I cannot put the point as a lawyer would, but I trust I make intelligible the thoughts which occupied my mind as I stood on the decks of the Carthusian after quitting the captain's cabin.
About twenty minutes later Grace arrived, accompanied by Mrs. Barstow. My darling did not immediately see me, and I noticed the eager way in which she stood for some moments scanning the bright and leaping scene of ocean.
The passengers raised their hats to her;  one or two ladies approached and seemed to congratulate her; she then saw me, and in a moment was at my side.
"How long is this to last, Herbert?"
"At any hour something may heave in sight, dearest."
"It distresses me to be looked at. And yet it is miserable to be locked up in Mrs. Barstow's cabin, where I am unable to be with you."
"Do not mind being looked at. Everybody is very kind, Grace; so sweet as you are, too,—who can help looking at you ?  Despite your embarrassment, let me tell you that I am very well pleased with what has happened." And I repeated to her what had been passing in my mind.
But she was too nervous, perhaps too young, to understand. She had left her gloves in the yacht, her hands were bare, and her fine eyes rested on the wedding-ring upon her finger.
"Must I go on wearing this, Herbert?"
"Oh, yes, my own,——certainly whilst you are here. What would Captain Parsons say, what would everybody think, if you removed it?"
"But I am not your wife," she exclaimed, with a pout, softly heating the deck with her foot, "and this ring is unreal: it signifies nothing"
I interrupted her. "I am not so sure that you are not my wife," said I. She shot a look at me out of her eyes, which were large with alarm and confusion. "At all events, I believe I am our husband;  and surely, my precious, you must hope that I am.  But, whether or not, pray go on wearing that ring.  You can pull it off when we get to Penzance, and I will slip it on again when we stand before my cousin."
By this time, the news of our having been married had travelled forward, conveyed to the Jacks and to the steerage passengers, as I took it, by one of the stewards. It was the sailors' dinner-hour, and I could see twenty of them on the forecastle staring aft at us as one man, whilst every time we advanced to the edge of the poop where the rail protected the deck there was a universal upturning of bearded, rough faces, with much pointing and nodding among the women.
After all this the luncheon-table was something of a relief, despite the rows of people at it. Nothing was said about the marriage. The privacy of the affair lay as a sort of obligation of silence upon the kindly-natured passengers, and though, as I have said, they could not keep their eyes off us, their conversation was studiedly remote from the one topic about which we were all thinking.
Lunch was almost ended, when I spied the second mate peering down at us through the glass of the skylight, and in a few minutes he descended the cabin-ladder and said something in a low voice to the captain.
"By George, Grace," said I, grasping her hand as it lay on her lap, and whipping out with the notion put into me by a look I caught from the captain, "I believe the second mate has come down to report a ship in sight." She started, and turned eagerly in the direction of the captain, who had quickly given the mate his orders, for already the man had returned on deck.
Mrs. Barstow, seated close to the captain, nodded at us, and Parsons himself sung out quietly down the table,— "I believe, Mr. and Mrs. Barclay, this will be your last meal aboard the Carthusian."
I sprang with excitement to my feet. "Anything in sight, captain ?"
"Ay, a steamer,—apparently a yacht. Plenty of time," added he, nevertheless rising leisurely as he spoke, on which all the passengers broke from the table,—so speedily dull grows the sea-life, so quickly do people learn how to make much of the most trivial incidents upon the ocean,-—and in a few moments we were all on deck.
"Yes, by Jove, Grace, there she is, sure enough!" cried I, standing at the side with my darling, and pointing forward, where, still some miles distant, a point or two on the starboard bow, was a steamer, showing very small indeed at the extremity of the long, far reaching line of smoke that was pouring from her.
A passenger handed me a telescope. I levelled it, and then clearly distinguished a yacht-like structure, with a yellow funnel, apparently schooner-rigged, with a sort of sparkling about her hull, whether from gilt or brass or glass, that instantly suggested the pleasure-vessel.
Turning my face aft, I saw the second mate and an apprentice or midshipman in buttons in the act of hoisting a string of colors to the gaff-end. The flags soared in a graceful semicircle, and the whole ship looked brave in a breath with the pulling of the many-dyed bunting, each flag delicate as gossamer against the blue of the sky, and the whole show of the deepest interest as the language of the sea, as the ship's own voice.
I approached the captain with Grace's hand under my arm.
"She has her answering pennant flying," he exclaimed, letting fall his glass to accost me, and he called to the second mate to haul own our signal. "I believe she will receive you, Mr. Barclay."
"Where do you think she's bound, captain ?"
"I should say undoubtedly heading for the English Channel," he answered.
"Captain Parsons, what can I say that will in any measure express my gratitude to you?"
"What I've done has given me pleasure; and I hope that you'll both live long, and that neither of you by a single look or word will ever cause the other to regret that you fell into the hands of Captain Parsons, of the good ship Carthusian."
Grace gave him a sweet smile. Now that it seemed we were about to leave this ship; she could gaze at him without alarm. He broke from us to deliver an order to the second mate, who re-echoed his command in a loud shout.
In a moment a number of sailors came racing aft and fell to rounding-in, as it is called, upon the main and  main-top-sail braces, with loud and hearty songs which were re-echoed out of the white hollows aloft and combined with the splashing noise of waters and the small music of the wind in the rigging into a true ocean concert for the ear.
The machinery of the braces brought the sails on the main to the wind; the ship's way was almost immediately arrested, and she lay quietly sinking and rising with a sort of hush of expectation along her decks which nothing disturbed save the odd farm-yard-like sounds of the live-stock somewhere forward.
The steamer was now rapidly approaching us, and by this time without the aid of a glass I made her out to be a fine screw yacht of some three hundred and fifty tons, painted black, with a yellow funnel forward of amidships which gave her the look of a gun-boat.
She had a chart-house or some such structure near her bridge that was very liberally glazed, and blinding flashes leaped from the panes of glass as she rolled to and from the sun, as though she were quickly firing cannon charged with soundless and smokeless gunpowder.
A figure paced the filament of bridge that was stretched before her funnel. He
wore a gold band round his hat, and brass buttons on his coat. Two or three men leaned over the head-rail, viewing us as they approached, but her quarter-deck was deserted. I could find no hint of female apparel or the blue serge of the yachtsman.
Old Parsons, taking his stand at the rail clear of the crowd, waited until the yacht floated abreast, where with a few reverse revolutions of her propeller she came to a stand within easy talking-distance, as handsome and finished a model as ever I had seen afloat.
"Ho, the yacht ahoy!" shouted Captain Parsons.
"Halloo !' responded the glittering figure from the bridge, manifestly the yacht's skipper.
"What yacht is that?"
"The Mermaid."
"Where are you from, and where are you bound to?"
"From Madeira for Southampton," came back the response.
"That will do, Grace," cried I, joyfully.
"We took a lady and a gentleman off their yacht, the Spitfire, that we found in a leaky condition, yesterday," shouted Parsons, "having been dismasted in a gale and blown out of the Channel. We have them aboard. Will you receive them and set them ashore?"
"How many more besides them, sir?" bawled the master of the yacht.
"No more,-—them two only." And Parsons pointed to Grace and me, who stood conspicuously near the main rigging.
"Ay, ay, sir; we'll receive"em. Will you send your boat?"
Captain Parsons flourished his hand in token of acquiescence; but he stood near enough to enable me to catch a few growling sentences referring to the laziness of yachtsmen, which he hove at the twinkling figure through his teeth in language which certainly did not accord with his priestly tendencies.
There was no luggage to pack, no parcels to hunt for, nothing for me to do but leave race a minute whilst I rushed below to fee the stewards. So much confusion attended our transference that my recollection of what took place is vague. I remember that the second mate was incessantly shouting out orders until one of the ship's quarter-boats with several men in her had been  fairly lowered to the water's edge and brought to the gangway, over which some steps had been thrown.
I also remember once again shaking Captain Parsons most cordially by the hand, thanking him effusively for his kindness, and wishing him and his ship all possible good luck under the heavens.
The passengers crowded round us and wished us good-by, and I saw Mrs. Barstow slip a little parcel into Grace's hand and whisper a few words, whereupon they kissed each other with the warmth of old friends.
Mr. McCosh stood at the gangway, and I asked 'him to distribute the twenty-pound bank-note I handed to him among the crew of the boat that had taken us from the Spitfire. I further requested that the second mate, taking his proportion, which I left entirely to the discretion of Mr. McCosh, would purchase some trifle of pin or ring by which to remember us.
Grace was then handed into the boat,-—a ticklish business to the eyes of a landsman, but performed with amazing dispatch and ease by the rough seamen who passed her over and received her.  I followed; watching my chance, and in a few moments the oars were out and the boat making for the yacht, that lay within musket-shot.
We were received by the captain of the yacht, a fellow with a face that reminded me somewhat of Caudel's, of a countenance and bearing much too sailorly to be rendered ridiculous by his livery of gold bang and buttons. But before I could address him old Parsons hailed to give him the name of the Carthusian and to request him to report the ship, and he ran onto the bridge to answer.
I could look at nothing just then but the ship. Of all sea-pieces I do not remember the like of that for beauty. We were to leeward of her, and she showed us the milk-white bosoms of her sails that would flash out in silver brilliance to the sunlight through sheer force of the contrast of the vivid red of her water-line as it was lifted out of the yeast and then plunged into it again by the rolling of the craft. Large soft clouds resembling puffs of steam sailed over her waving mast-heads, where a gilt vane glowed like a streak of fire against the blue of the sky between the clouds.