Photos of the SS Blücher - Hamburg-America Line - 1908
Some of the best photographs (interior and exterior) from the turn of the century document the SS Blücher of the Hamburg America Line as she visits various ports of western Norway at the turn of the twentieth century.
SS Blücher was a Barbarossa-class ocean liner built by Blohm & Voss Shipbuilders, Hamburg, Germany, in 1902 for the Hamburg America Line, to sail under German flag. She displaced 12,334 gross tons and was 550 feet long by 62 feet wide. Steam quadruple-expansion engines powered twin screws. Her service speed was 16 knots. She originally carried 2,102 passengers, including 333 first class, 169 second class, and 1,600 third class, on four decks with a steel hull, and was served by a crew of 252. She was fitted with two masts and two funnels.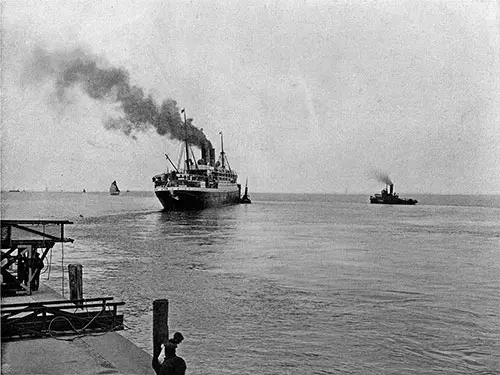 Departure from Cuxhaven of the SS Blücher. Photo 001, Northland Trips Book of Photographs, Hamburg-American Line, 1908. GGA Image ID # 16640bfca9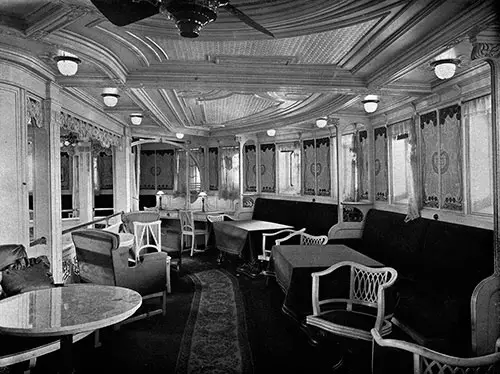 Ladies Salon on the SS Blücher. Photo 002, Northland Trips Book of Photographs, Hamburg-American Line, 1908. GGA Image ID # 166476c09c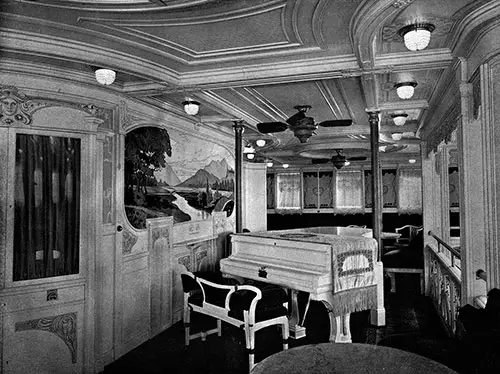 Music Salon on the SS Blücher. Photo 003, Northland Trips Book of Photographs, Hamburg-American Line, 1908. GGA Image ID # 16647b0d68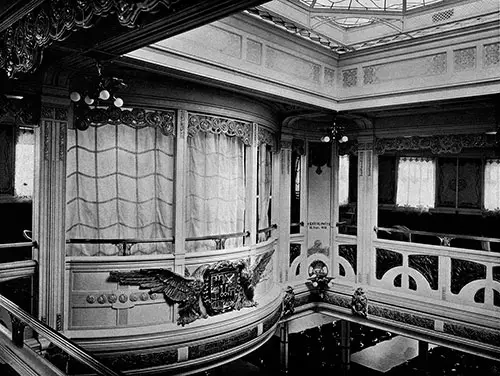 Light Shaft on the SS Blücher. Photo 004, Northland Trips Book of Photographs, Hamburg-American Line, 1908. GGA Image ID # 1664af8176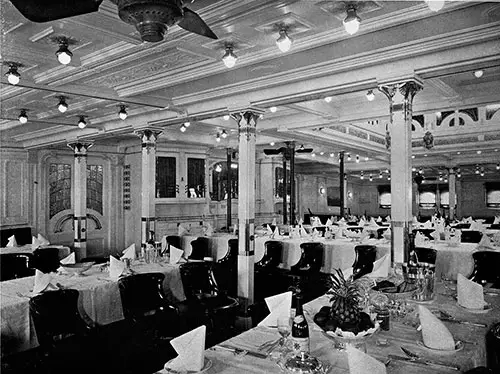 A Dining Salon on the SS Blücher. Photo 005, Northland Trips Book of Photographs, Hamburg-American Line, 1908. GGA Image ID # 1664fe81b5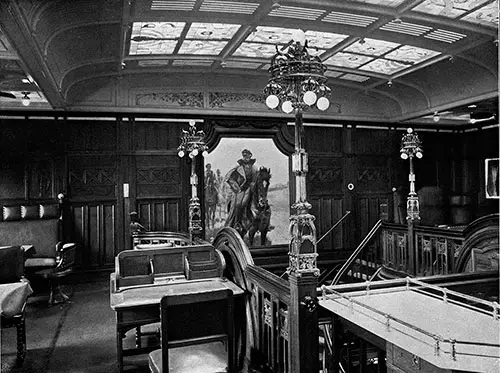 The Grill Room on the SS Blücher. Photo 006, Northland Trips Book of Photographs, Hamburg-American Line, 1908. GGA Image ID # 166510fcb7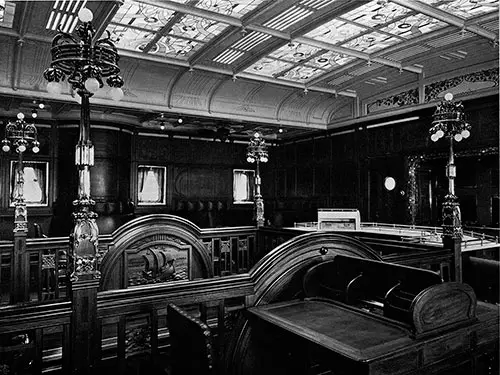 The Grill Room on the SS Blücher. Photo 007, Northland Trips Book of Photographs, Hamburg-American Line, 1908. GGA Image ID # 16651fe71c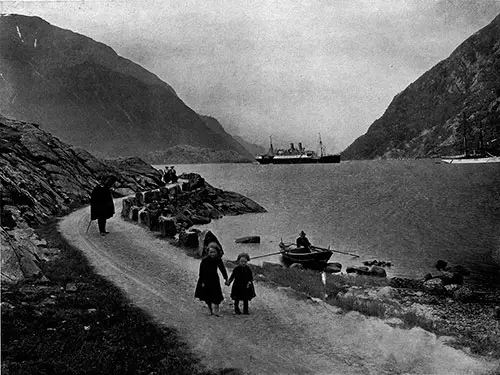 SS Blücher Anchors in the Harbor at Hardangerfjord. Photo 038, Northland Trips Book of Photographs, Hamburg-American Line, 1908. GGA Image ID # 1665a62a3d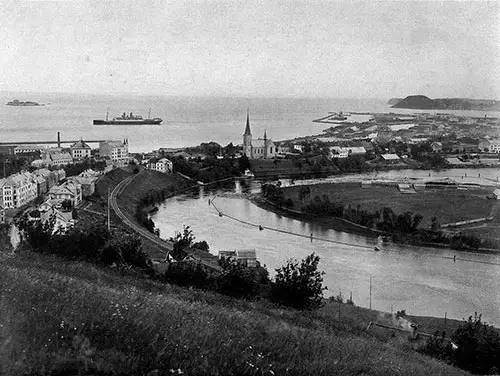 View of Harbor at Trondhjem with the SS Blücher of the Hamburg American Line Visible in the Background. Photo 049, Northland Trips Book of Photographs, Hamburg-American Line, 1908. GGA Image ID # 1665b2526b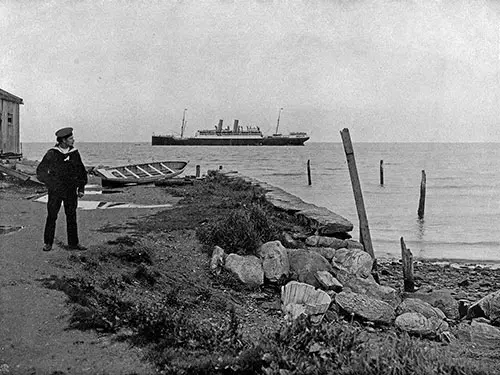 The SS Blücher in Trondhjem harbor - Norwegian Sailor in Foreground. Photo 050, Northland Trips Book of Photographs, Hamburg-American Line, 1908. GGA Image ID # 1665d77bdf
The SS Blücher Anchored at Bellsund Fjord, Spitsbergen. Photo 076, Northland Trips Book of Photographs, Hamburg-American Line, 1908. GGA Image ID # 166603d487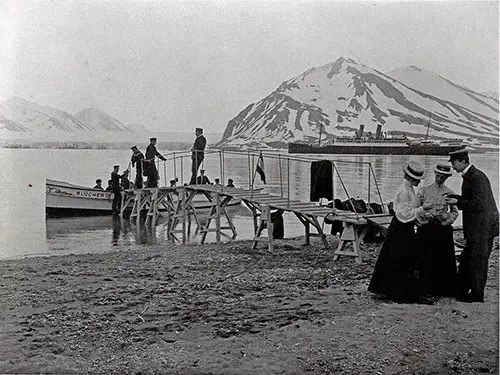 The SS Blücher Anchored at Bellsund Fjord, Spitsbergen - Passengers Loading onto Tender. The Women on the Left Foreground Appears to Be Hold a Ticket. Photo 077, Northland Trips Book of Photographs, Hamburg-American Line, 1908. GGA Image ID # 16661e4e28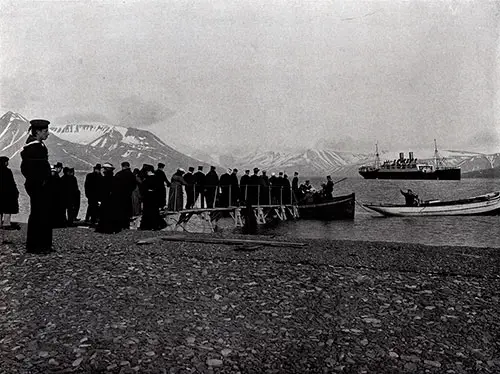 The SS Blücher in the Advent Bay, Spitsbergen. Passengers Awaiting to Board Tender at the Dock. Photo 078, Northland Trips Book of Photographs, Hamburg-American Line, 1908. GGA Image ID # 16665be2c4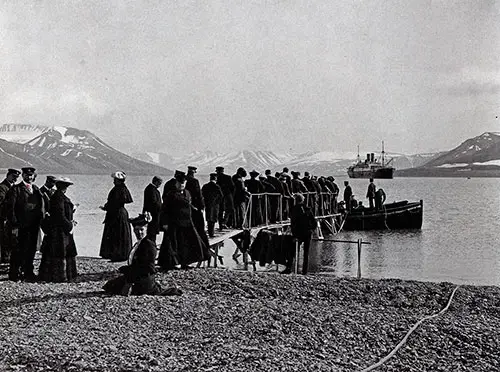 The SS Blücher in the Advent Bay, Spitsbergen. Passengers Awaiting to Board Tender at the Dock. Photo 081, Northland Trips Book of Photographs, Hamburg-American Line, 1908. GGA Image ID # 1666638b15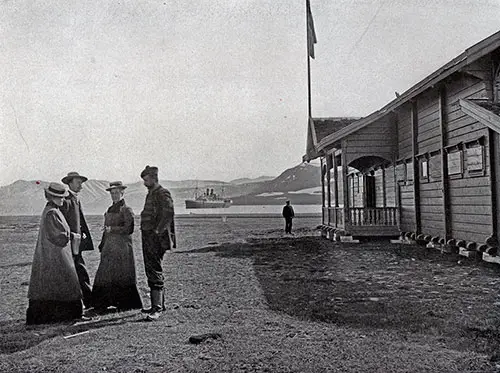 The SS Blücher in the Advent Bay, Spitsbergen. Photo 083, Northland Trips Book of Photographs, Hamburg-American Line, 1908. GGA Image ID # 16666e668a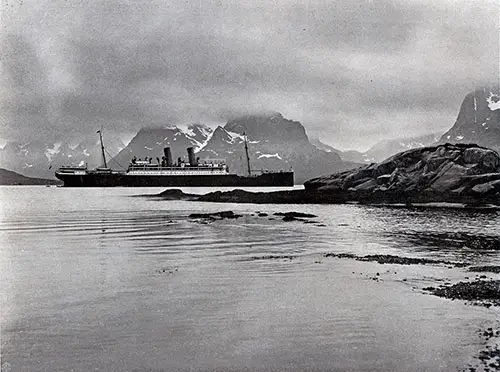 The SS Blücher in Raftsund, Lofoten, Digermulen, Norway. Photo 086, Northland Trips Book of Photographs, Hamburg-American Line, 1908. GGA Image ID # 166671763c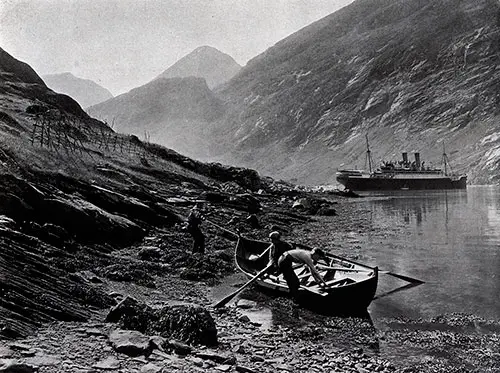 The SS Blücher in Geirangerfjord (Geirangerfjorden), Romsdal, Norway. Photo 092, Northland Trips Book of Photographs, Hamburg-American Line, 1908. GGA Image ID # 16667af6b8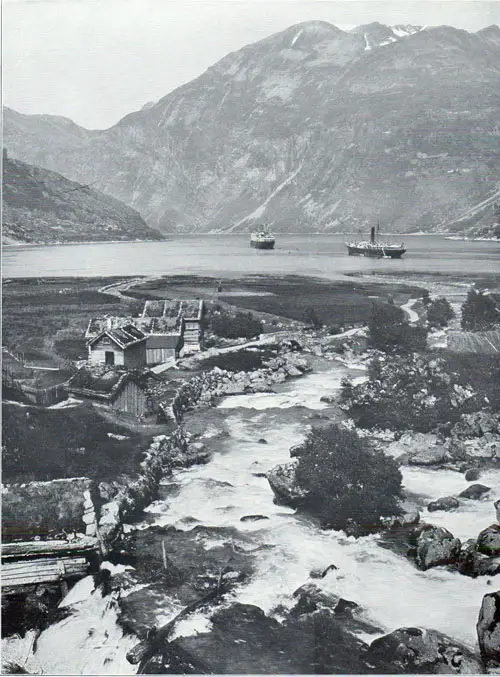 The SS Blücher in Geirangerfjord Shown With Unidentified Coastal Steamer (the One-Funnel Steamship on the Right). Photo 093, Northland Trips Book of Photographs, Hamburg-American Line, 1908. GGA Image ID # 1666dd5ceb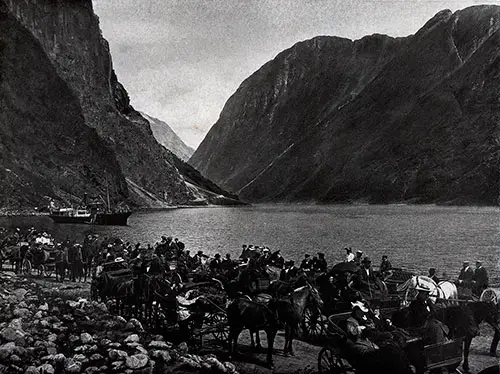 Passengers for the SS Blücher on Nærøyfjorden at Gudvangen. Photo 116, Northland Trips Book of Photographs, Hamburg-American Line, 1908. GGA Image ID # 1666eea377