Immigrant ID Card for Non-Quota Immigration Visa - 1928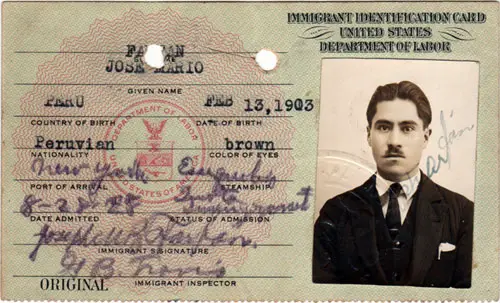 Example of an Immigrant ID Card issued by the US Department of Labor for Non-Quota Immigration Visa in 1928 to a Peruvian refugee Jose Mario Farban of Lima, Peru.
Immigrant Identification Card
United States Department of Labor
Surname: Faspan
Given Name: Jose Mario
Country of Birth: Peru
Date of Birth: February 13, 1903
Nationality: Peruvian
Color of Eyes: Brown
Port of Arrival: New York
Ship: Eassqubs ? Unreadable
Date Admitted: 28 August 1928
Status of Admission: Unreadable
Immigrant Signature: Joseph M. B. Faspan (Last name difficult to decipher)
Immigrant Inspector: G. B. Travis
Reverse Side of Immigrant Identification Card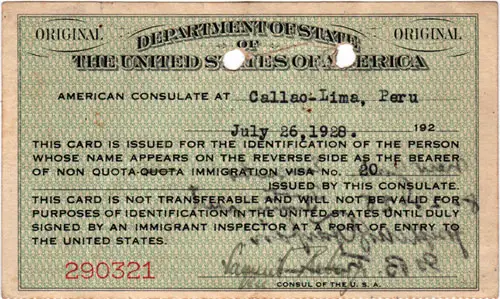 Original
Department of State of the United States of America
American Consulate at Callao-Lima, Peru
July 26, 1928
This card is issued for the Identification of the person whose name appears on the reverse side as the bearer of Non Quota Immigration Visa No. 20 Issued by this Consulate.
This Card is Not Transferable and will not be valid until duly signed by an Immigrant Inspector at a Port of Entry to the United States.
290321
/s/ Samuel Roberts, Consul of the U.S.A.
Note: After 1928, all immigrants admitted with a visa were issued an Immigrant Identification Card with a Photograph of the Immigrant such as you see in the above document from the Archives.
For Additional Information:
U. S. Department of Labor, Bureau of Immigration, June 30, 1928, Beginning on July 1, a so-called immigrant identification card will be issued
U. S. Department of Labor, Bureau of Immigration, July 18, 1928, General Order No. 110, Subject: "Immigrant" Identification Cards
Information about Document
Title: Immigrant Identification Card
Issued By: U.S. Department of Labor / Department of State
Dimensions: 12.6 x 7.5 cm