Ellis Island Immigrant Document Collection - 1923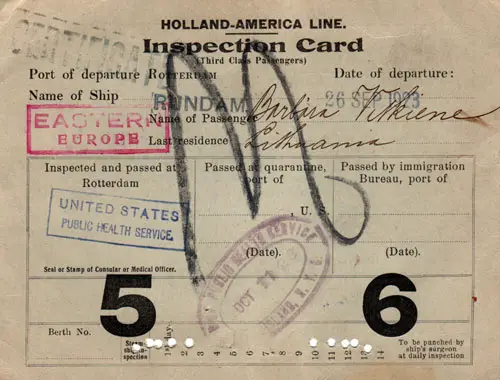 Exhibit 1: Holland America Line Inspection Card for Third Class Passengers - Front (Above) and Back Side (Below)
From 1892 to 1954 Millions of immigrants were processed through Ellis Island. This is a collection of documents that pertain to a 65 year-old Lithuanian immigrant, Barbara Vitkiene, who arrived at Ellis Island in 1923 including the Immigrant Inspection Card, Immigrant ID Tag and passenger manifest extracts and images.
Holland-America Line Inspection Card (Third Class Passengers)
This was a Certificate or Inspection Card used by the U.S. Immigration Service for Immigrants which indicated that they were vaccinated, disinfected and passed daily health inspections during the voyage across the Atlantic. The immigrant was instructed to "Keep this Card to avoid detention at Quarantine and on Railroads in the United States." The quoted message was written on the back side in 7 languages (English, German, French, Dutch, Spanish, Polish, and ??)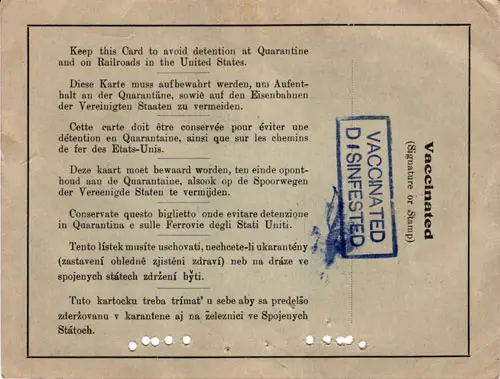 Immigrant Outer-Garment ID Tag
Each immigrant received an Immigration ID Card that was attached by a string to their outer garment and was worn throughout their inspection process at Ellis Island.
Cruise Line: Holland-America Line
Vessel: TSS Rijndam (often referred to as the "Ryndam")
Route: from Rotterdam, Date: 26 September 1923 (Arrived in New York 6 October 1923)
Passenger List: Manifest Sheet No. 5, List No. 6
Name of Passenger and address of destination
Barbara Vitkiene
c/o son: John Vilkins, 264 N. Chicago Street,, Kenosha, Wisconsin
A Quick Lesson on Lithuanian Surnames
In Lithuanian, female surname ending change based on their marital status while male spellings stay the same.
All married female surname spellings end in IENE. In Barbara's case, her surname spelling indicates she is Mrs. Barbara Vitkus.
Unmarried female spellings end in AITE, UTE (circa 1900 IUTE), or YTE depending how the surname ending is spelled.
An unmarried female with the surname of VITKUS would become VITKUTE (or VITKIUTE using an older spelling version).
- Lithuanian Name Change information submitted by Tom Sadauska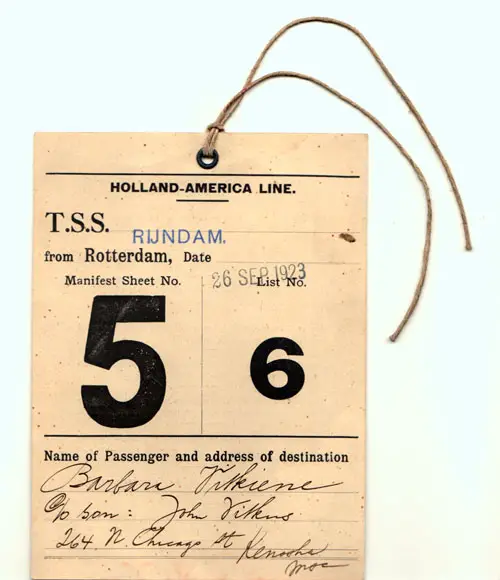 Exhibit 2: Immigrant Identification Tag worn on the Outer Garment - this one was for Barbara Vitkiene of Lithuania. The front of the tag identified the page and line number of the passenger manifest shown above, while the back side (below) provided the instructions for wearing the ID tag.
When landing at New York, this card to be attached to the coat or dress of the passenger in a prominent position.
Message above repeated in 9 other languages.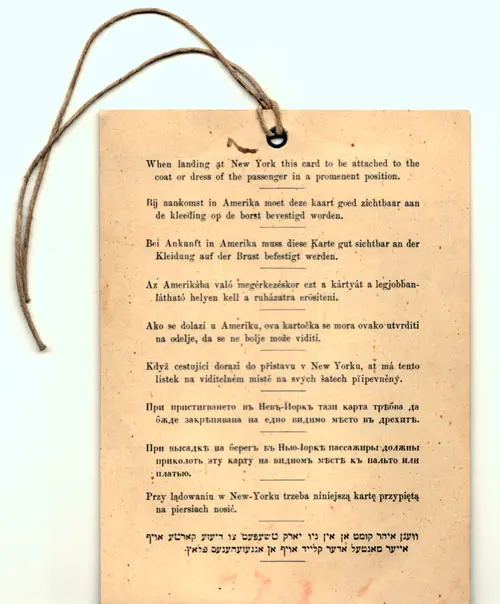 Reverse side of Immigrant Identification Card
Port of Departure: Rotterdam Date of Departure: 26 September 1923

(Arrived in New York on 6 October 1923 - Page 217 Morton Allan Directory)

Name of Ship: Rijndam I (1901) (Capacity of 286 First Class; 196 Second Class and 1,800 Third Class / Steerage Passengers)
Name of Passenger: Barbara Vitkiene
Last Residence: Kowlisky, Lithuania
Inspected and Passed at Rotterdam: United States Public Health Service
Passed at Quarantine, Port of [New York]
Passed by Immigration Bureau, Port of [New York]
Stamped by U.S. Public Health Service, Long Island, NYC 11 October 1923
Berth No. [Left Blank]
Steamship Inspection: 10 Holes Punched by Ship's Surgeon at Daily Inspection.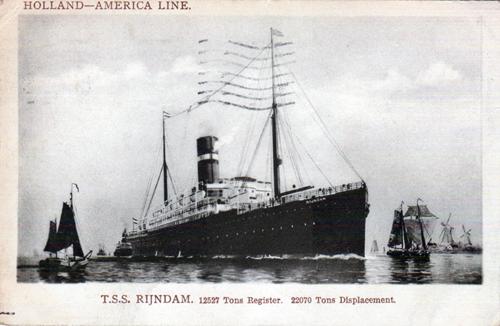 Holland America Line TSS Rijndam, 12,527 Tons Register. 22,070 Ton Displacement From the Gjenvick-Gjønvik Archives Postcard Collection - Postally used 1910-04-26.
Manifest Sheet No. 5 List No. 6 (See Below)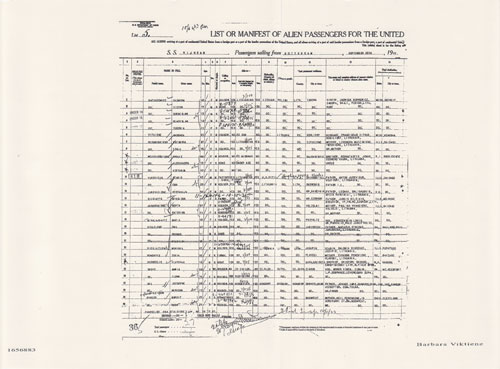 Exhibit 3: List or Manifest of Alien Passengers for the United States Immigration Officer at Port of Arrival (Part 1 Above and Part 2 Below - Large image) 1923-10-06 Passenger Manifest Page 0362 0363 Below is a close up of Line 6, Part 1 and two.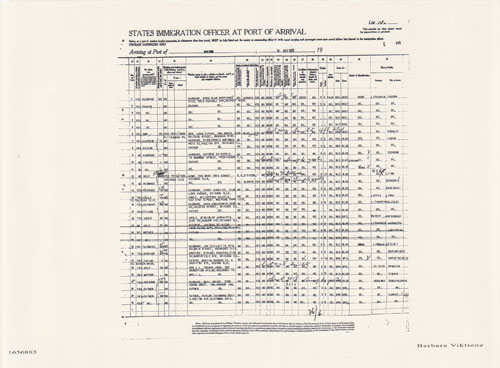 Name of Passenger Residence Arrived Age on Arrival Passenger Record Ship Manifest - Barbara Vitkiene from Kowlisky, Lithuania 1923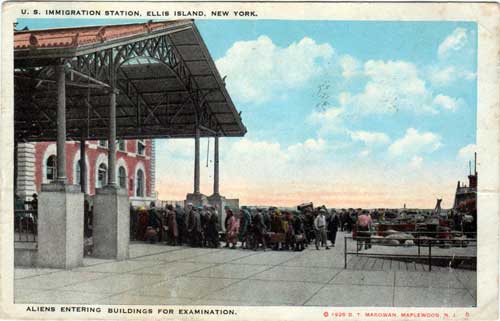 U. S. Immigration Station, Ellis Island, New York
Aliens entering buildings for examination by surgeons of the U. S. Public Health Service after having been transferred from arriving ocean liner by steamboat.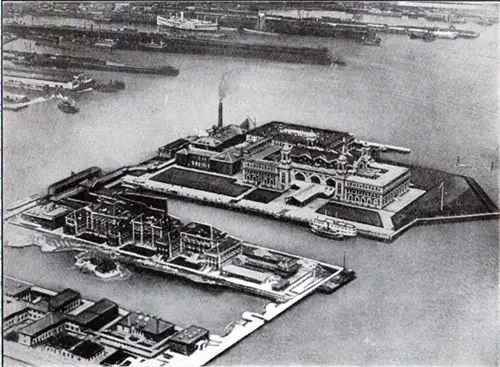 Ellis Island Immigration Station, New York, As Seen From An Airplane, New York Harbor Docks in Background. (1922)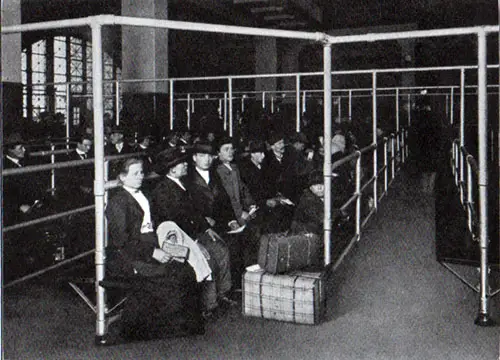 Immigrants Waiting to be Passed For Entry Into the United States, Ellis Island, New York.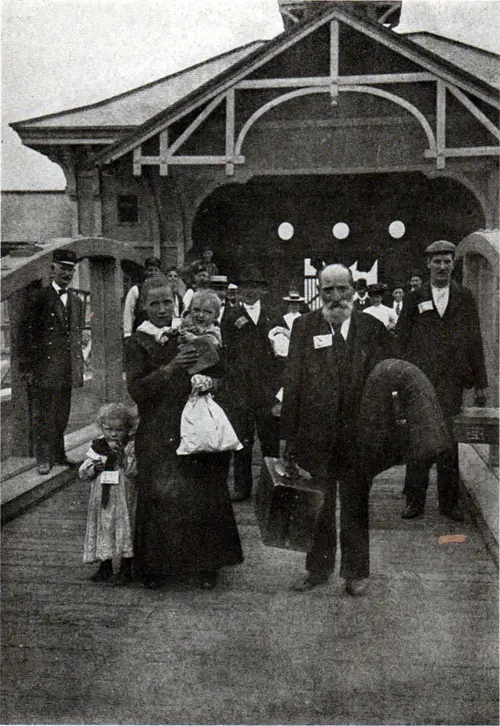 Immigrants in 1904 After being processed at Ellis Island
Information of Immigration Documents
Document Name: Inspection Card
Dimensions: 16.6 x 12.5 cm
Document Name: Immigration ID Tag - Outer Garment
Dimensions: 11 x 14.7 cm
Length of String: Approximately 32 cm