Transmigrant Certificate, Third Class Passenger - 1921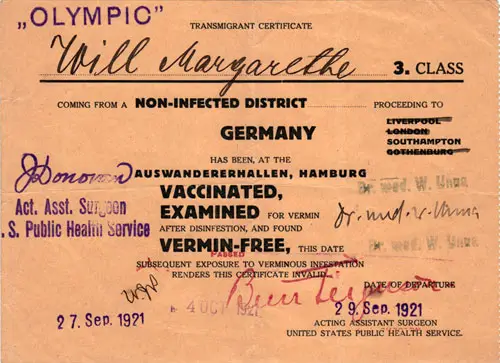 Transmigrant Certificate, issued in 1921 to a third class passenger on the White Star Line RMS Olympic. It is intended as a health certificate notifying anyone that the carrier had been inspected, vaccinated, examined and vermin-free.
Olympic Transmigrant Certificate
Will Margarethe 3. Class
Coming From A Non-Infected District Germany, Proceeding to Southampton
Has been, at the Auswandererhallen, Hamburg [Note 1]
Vaccinated, Examined for Vermin, After Disinfection, and Found Vermin-Free, This Date 27 September 1921. Subsequent Exposure to Verminous Infestation Renders This Certificate Invalid.
Date of Departure: 29 September 1921
Acting Assistant Surgeon
United States Public Health Service
/s/ J. Donovan, Acting Assistant Surgeon, U.S. Public Health Service
Other Signatories: Dr. Med. W. Unua and Burr Teiguson
Note 1: Auswandererhallen were immigrant huts set up by the steamship companies to house immigrants in transit.
Infectious diseases such as typhus fever, typhoid fever, cholera, smallpox, dysentery and other diseases spreading by alimentary tracts caused the greatest epidemiological problem . The considerable number of smallpox cases were noted in 1920-1922.
Commentary by The Gjenvick-Gjønvik Archives
This is one of the poorest examples of layout for a health certificate we have encountered. Appears that it was made so that a quick glance, you would know that the person was Vaccinated, Examined and Vermin-Free, or in other words, safe to travel on your vessel.
Information About the this Document
Title: Transmigrant Certificate
Issued by: United States Public Health Service
Date of Issue: 27 September 1921
Date of Departure: 29 September 1921