Canadian Steerage Immigrant Inspection Card - 1915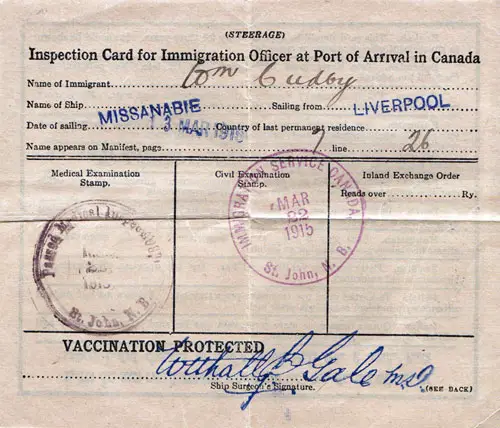 Canadian Immigrant Inspection Card issued to a Steerage Passenger on board the Canadian Pacific steamship SS Missanabie departing from Liverpool 13 March 1915. The Missanabie was notable in that it had a very short life, with a maiden voyage on 7 October 1914, the ship of torpedoed and sunk by a German U-Boat on 9 September 1918. This represents a very rare immigrant document from a ship in service less than four years.
(Steerage)
Inspection Card for Immigration Officer at Port of Arrival in Canada
Name of Immigrant : Gom Cudby
Name of Ships : Missanabie
Sailing From : Liverpool
Date of Sailing : 13 March 1915
Country of Last Permanent Residence : Left Blank
Name Appears on Manifest, Page 7 Line 26
Medical Examination Stamp : Passed Medical Inspection St. John NB
Civil Examination Stamp : Immigration Service, Canada, St. John, MB 22 March 1915
Vaccination Protected : /s/ Totthally B. Gale M.D. Ship's Surgeon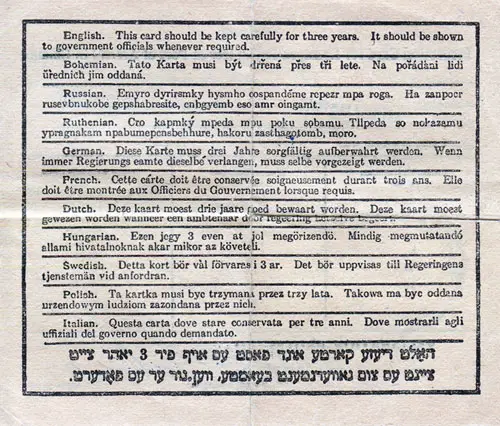 Reverse side of Inspection Card states:
This card should be kept carefully for three years. It should be shown to government officials whenever required.
Translated into Bohemian, Russian, Ruthenian, German, French, Dutch, Hungarian, Swedish, Polish, Italian and Arabic.