Canadian Immigrant Inspection Card - Steerage Passenger - 1912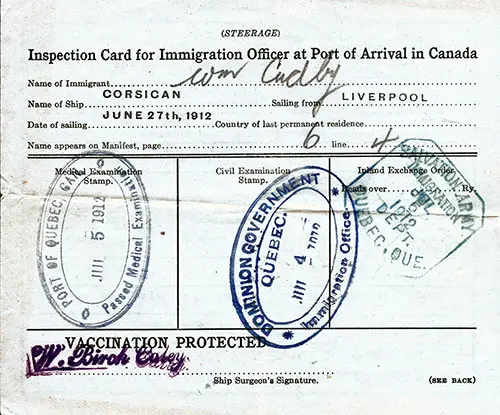 Steerage Passenger Inspection & Vaccination Card - Canadian Port of Entry (Quebec) - 1912 for Immigrant William (Wm.) Cudby on the SS Corsican Departing from Liverpool 27 June 1912 and Arriving in Quebec 4 July 1912. He Cleared Immigration the Following Day. Immigration Documentation Collection, Gjenvick-Gjønvik Archives. GGA Image ID # 776afd26e4
Canadian Immigrant Inspection Card issued in 1912 to a steerage passenger on board the Allan Line SS Corsican. Card provided essential information including name of immigrant, Steamship, port and date of departure. The card was intended to be kept by the immigrant for three years. It would be shown to government officials whenever required.
Steerage Passenger Inspection Card for Immigration Officer at Port of Arrival in Canada
Name of Immigrant: William (Wm.) Cudby
Name of Ship: Corsican (Allan Line)
Sailing From: Liverpool
Date of Sailing: 27 June 1912
Country of Last Permanent Residence: Not Indicated
Name appears on Manifest, Page 6 Line 4
Medical Examination Stamp: July 5 1912 Passed Medical Examination, Port of Quebec, Canada
Civil Examination Stamp: July 4 1912 Immigration Office, Dominion Government Quebec
Inland Exchange Order Stamp: Salvation Army Immigration July 5 1912 Quebec, QUE
Vaccination Protected /s/ W. Birch Cabey, Ship's Surgeon
Reverse Side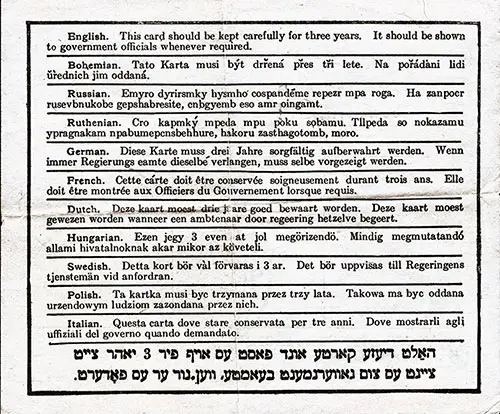 Instructions for Steerage Passengers in 12 Languages
GGA Image ID # 41a024f03e
Instruction for Immigrant printed in English, Bohemian, Russian, Rutheanian, German, French, Dutch, Hungarian, Swedish, Polish, Italian, and Arabic.
"This card should be kept carefully for three years. It should be shown to government officials whenever required."