Austrian Immigrant Inspection Card - 1912
Fine example of an Immigrants and Steerage Passengers' Inspection Card issued on 24 April 1912 by the Hamburg America Line for an Austrian Immigrant on board the SS President Grant that departed from Hamburg, Germany arriving in New York on 7 May 1912. Passed American Ellis Island Inspectors on 8 May 1912.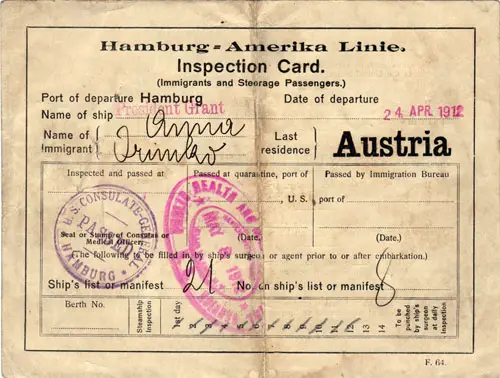 Front of Immigrant Inspection Card
Hamburg-Amerika Linie

-** Inspection Card

(Immigrants and Steerage Passengers)
Port of Departure: Hamburg
Date of Departure: 24 April 1912
Name of Ship: President Grant
Name of Immigrant: Anna Grimko (note 1)
Last Residence: Austria
Inspected and Passed at: U.S. Consulate General - Hamburg - Passed (Seal)
Passed at Quarantine, Port of [New York], May 8 1912
Ships List or Manifest 21 No. on Ships List or Manifest 8 (Page 21, Line 8)
Berth No. ____
Steamship Inspection 12 Days (Crossed out by ship's surgeon on daily inspection)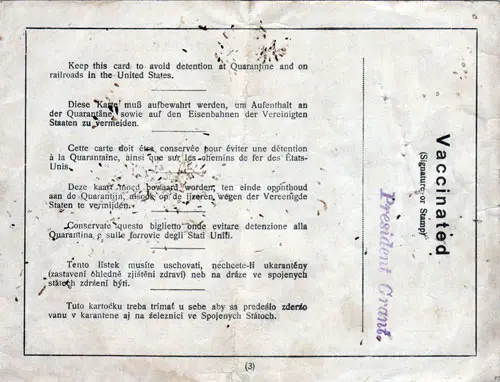 Reverse side of Immigrant Inspection Card
Vaccinated (Signature or Stamp) President Grant
Keep this card to avoid detention at Quarantine and on railroads in the United States.
Notice translated in German, French, Dutch, Italian, Czech, and Slovak (note 1)
Note 1: Archives patron, V. Kralicek, provided corrections to the transcribed name and the languages the above phrase (Keep this card...) was translated into. (27 September 2011)