Immigrant Inspection Card - Cunard RMS Carpathia - 1904
Inspection Card issued to an immigrant traveling in Steerage on board the RMS Carpathia of the Cunard Line dated 18 October 1904 that provided information including Port and Date of Departure, Name of Ship, Name of Immigrant, Last Residence and evidence of Immunization.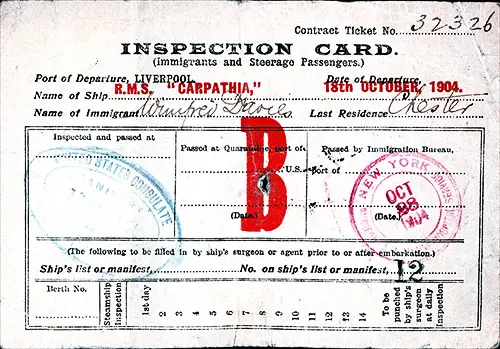 Front Side of Immigrant and Steerage Passengers Inspection Card on the RMS Carpathia of the Cunard Line. Passenger Winifred Davies of Chester Departed from Liverpool on 18 October 1904. Image ID # 1544b1843f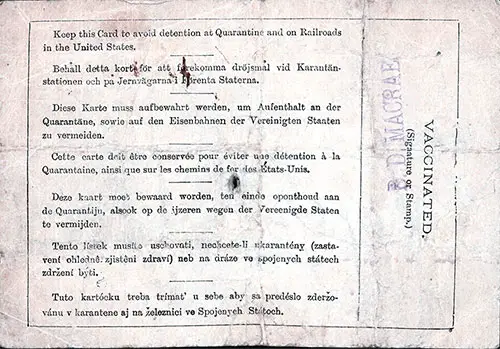 Back Side of the Immigrant and Steerage Passengers Inspection Card was a Proof of Vaccination and Notice to Immigrants to Retain this Card while Traveling on Railroads to Avoid Detention at Quarantine. GGA Image ID # 1544e3f934
Associated Passenger Date of Arrival Port of Departure Line # Winifred Davies October 28, 1904 Liverpool 0012
Associated Passenger: Davies, Winifred
Date of Arrival: October 28, 1904
Port of Departure : Liverpool
Passenger Manifest Record
First Name:
Winifred
Last Name:
Davies
Ethnicity:
England English
Last Place of Residence:
Chester
Date of Arrival:
October 28, 1904
Age at Arrival:  30y    Gender:  F    Marital Status:  W  
Ship of Travel:
Carpathia
Port of Departure:
Liverpool
Manifest Line Number:
0012
 RMS Carpathia
Built by Swan, Hunter & Wigham Richardson Limited, Newcastle, England, 1903. 13,603 gross tons; 558 (bp) feet long; 64 feet wide. Steam quadruple expansion engines, twin screw.  Service speed 14 knots.  1,704 passengers (204 first class, 1,500 third class).One funnel, four masts, steel hull, three decks.
Built for Cunard Line, British flag, in 1903 and named Carpathia. Liverpool-New York and Trieste-New York service. Rescued 705 survivors on April 15, 1912 from the sunken TITANIC. Torpedoed and sunk by a German submarine off the English coast in 1918.