Early 1900s Immigration Landing Cards for Second Cabin Passenger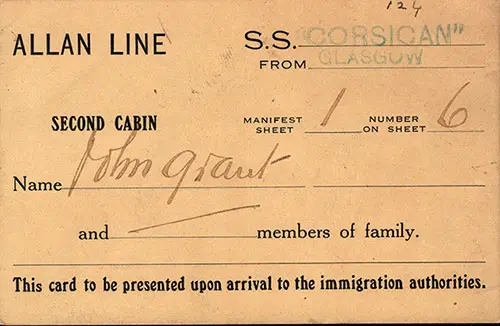 Example of a Landing Card for Second Cabin Passenger John Grant on Board the SS Corsican of the Allan Line Departing from Glasgow, nd. circa Early 1900s. Primary Source Immigration Document Collection, GG Archives. GGA Image ID # 14a68c4c2e
Immigration card that dates from the early 1900's was provided to Second Cabin passenger John Grant, who arrived via a Canadian port on the SS Corsican of the Allan Line.
Allan Line SS Corsican
Card Number 124
From Glasgow
Second Cabin
Manifest Sheet 1, Number on Sheet 6
Name: John Grant and -- members of family.
This card to be presented upon arrival to the immigration authorities.
Landing Card for United States Immigration Service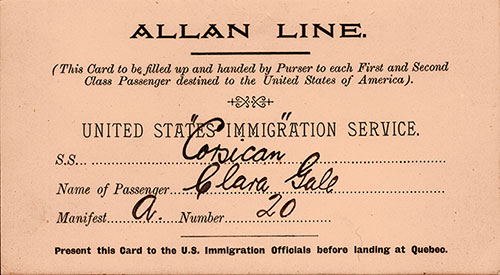 Landing Card - Canadian Port for U.S. Immigration Service - ca 1907. Primary Source Immigration Document Collection, GG Archives. GGA Image ID # 73afc9f462
This Card to be filled up and handed by Purser to each First and Second Class Passenger Destined to the United States of America
United States Immigration Service
[Ship] S.S. Corsican
Name of Passenger: Clara Gale
Manifest A Number 20
Present this Card to the U.S. Immigration Officials before landing at Quebec.