They Came in Ships - 1989/1993
A Guide to Finding Your Immigrant Ancestor's Arrival Record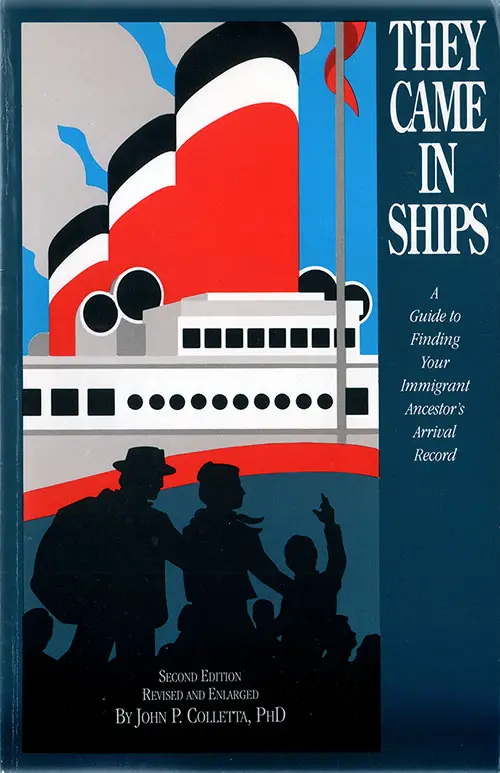 Author: John Philip Colletta
Title: They Came in Ships: A Guide to Finding Your Immigrant Ancestor's Arrival Record
Edition: Second Edition, Revised and Enlarged
Format: Paperback
Pages: 93
ISBN: 0-916489-42-6
Publisher: MyFamily.com, Incorporated
Location: Salt Lake City, Utah
Pub. Date: February 1997 (© 1989)
Language: English US
Subjects: Ships -- United States -- Passenger lists -- Handbooks, manuals, etc.
Notes: Includes Bibliographical
Size: 5 1/2" x 8 1/2"
Dust Jacket: No
List Price: US$9.95
Synopsis: Irvine focuses on how to use the many unpublished resources available in North America at the Family History Library (FHL) in Salt Lake City, many FHL branch libraries, and FH Centers located in local Latter Day Saints churches and other larger libraries. In addition, Irvine outlines research in English repositories.
Chances are, if you're American, you've got immigrant ancestors! For over 400 years, from the 1500s-1900s, millions of people immigrated to the United States. They came from Europe, Africa, Asia and Central and South America. And nearly all of them came by ship, leaving behind valuable clues for you to discover! They Came in Ships is the first comprehensive manual to navigate the vast landscape of these ship records!
Author John Philip Colletta will guide you through the difficult task of uncovering and understanding these essential records. You'll learn where and how to begin your search for your ancestors! Study the sample research scenarios to make your research time more effective! Colletta has even introduced a special chapter in this edition dedicated to helping you find a ship if your ancestor arrived in a year not included in National Archives!
They Came in Ships is the ultimate genealogist's tool for locating and understanding immigrant ships' records! An essential tool for the American genealogist! 93 Pages, Softbound
Excerpted from They Came in Ships : A Guide to Finding Your Immigrant Ancestor's Ship by John Philip Colletta. Copyright © 1998. Reprinted by permission. All rights reserved.
From the 1500s-1900s, our ancestors came on ships from all over-- leaving behind valuable records to discover!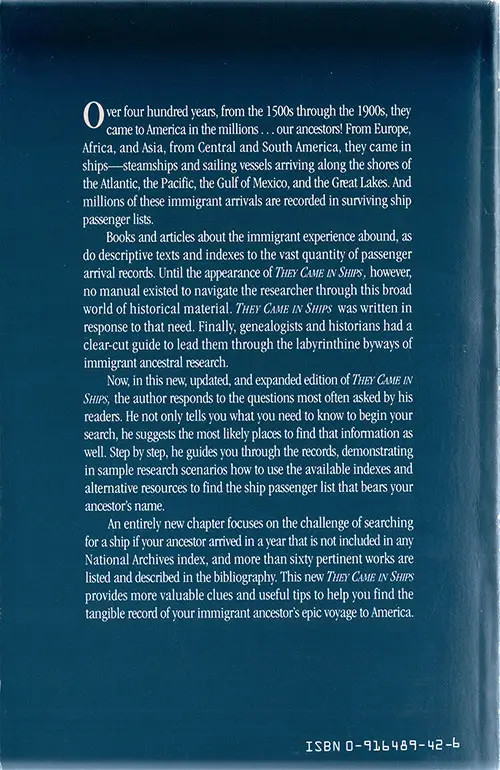 Publisher Description
Chances are excellent that your ancestors came to America from somewhere-England, Spain, Germany, China, Africa. Can you imagine how they felt as they left their homes, what they left behind? Do you want to know? Would you know where to even start looking for the details? Author and genealogist John P. Colletta prepares you to undertake the search. He tells you not only what fundamental facts you need to know about your immigrant ancestor before beginning, but suggests where you may find that information as well.
About The Author
John Philip Colletta is one of America's most popular genealogical lecturers. He conducts workshops for the National Archives, teaches courses for the Smithsonian Institution, and lectures nationally. He is also on the faculty of three genealogical institutes held annually.
Library of Congress Catalog Listing
| | |
| --- | --- |
| Personal name | Colletta, John Philip, 1949- |
| Main title | They came in ships / by John Philip Colletta. |
| Published/Created | Salt Lake City, UT : Ancestry Pub., c1989. |
Description
ISBN
LC classification (full)
LC classification (partial)
Subjects
Ships--United States--Passenger lists--Handbooks, manuals, etc.
United States--Genealogy--Handbooks, manuals, etc.
Notes
Includes bibliographical references (p. 55-65).
LCCN
Dewey class no.
Geographic area code
Type of material