The Port of Liverpool: Ninth Edition (1935)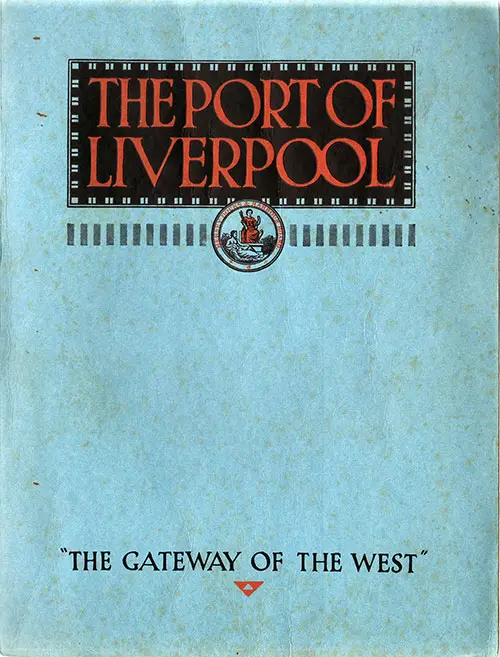 Mercey Docks and Harbor Board, The Port of Liverpool, Ninth Edition, © 1935, Littlebury Bros. Ltd., Liverpool, England, Soft cover, 160 Pages + 121 Pages Advertising + Fold-out Maps LOC # 20023255.
The ninth edition of "The Port of Liverpool," published by Littlebury Bros., Liverpool, contains comprehensive details and illustrations of the activities of the port as well as its history.
In 1757, 1,371 vessels entered the port, and the total rates and dues paid on the vessels and goods amounted to £2,336.
In 1934, the number of vessels had risen to 17,499. of a tonnage of 19,969,364 and the total rates and dues on vessels and goods was £2,469,969.
As regards export trade, Liverpool stands without a rival in the kingdom. For 1933, its export trade stood at £107,454,450.
The publications pays special attention to the docks, which over a huge area, and can accommodate all calsses of vessels.
Each dock is described, and tables are given showing the position and width of entrace, sill above bay datum, water area, and lineal quayage. The publication also includes a brief hsitory of the development of the shipping companyies having their headquarters at Liverpool and of the insurance companies concerned with the port.
The publication also has a significant number of advertisements of the business that support the Port of Liverpool in addition to passenger and freight steamship companies, parts, supplies and other items. Photographs and maps are useful for genealogical research in addition to the history section of the publication.
Subjects include:
History of the Port of Liverpool
Northern Extension Works
Bidston Dock
The Liverpool Docks
The Birkenhead Docks
The Landing Stage
Railway Traffic at the Mersey Docks
The Commerce of the Port
Histories of Shipping Companies
Histories of Insurance Companies
Library of Congress Catalog Listing
| | |
| --- | --- |
| Corporate name | Mersey Docks & Harbour Board. |
| Main title | |
| Published/Created | Liverpool, Littlebury Bros. [n.d.] |
Description
v. illus., ports. 23-25 cm.
Current frequency
LC classification (full)
LC classification (partial)
Subjects
Harbors--England--Liverpool.
Docks--England--Liverpool.
Steamboat lines--England--Liverpool.
LCCN
Geographic area code
Type of material