The Only Way To Cross - 1972/1997
by John Maxtone-Graham; Forward by Walter Lord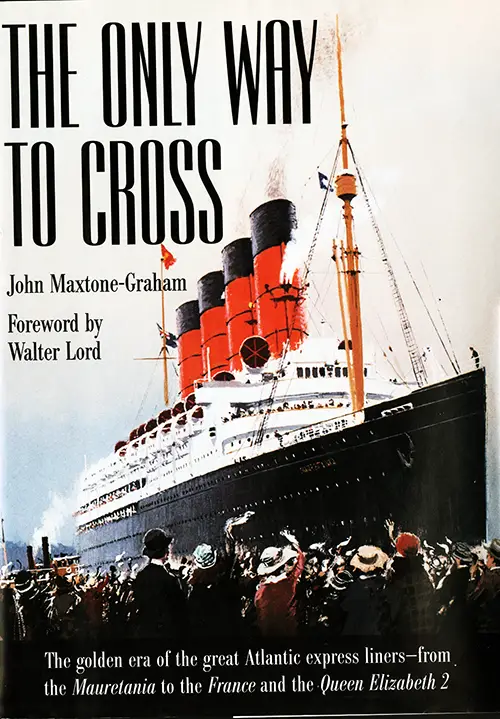 The Only Way To Cross by John Maxtone-Graham, covers Building the Mauretania, Olympic-Titanic, The Kaiser's Fleet, Stokers & Steerage, Eastbound: The Twenties, Both World Wars. Barnes & Noble Books, New York, September 1997 (© 1972), Hardcover with Dustjacket. Includes Bibliographical References and Index. 434 Pages, 7" x 9 1/2", ISBN: 0-7607-0637-9.
Synopsis
This painstakingly researched volume chronicles the age of luxury transatlantic travel and the splendid, glittering steamships that thundered across the world's most dangerous ocean ferrying the world's wealthiest and most prominent passengers, from Mary Pickford and Sally Rand to Edward, Prince of Wales, between the U.S. and Europe during the first half of the century.
The book profiles the opulent lifestyles aboard such floating palaces as Normandie, Rex, Olympic, Amerika, Queen Mary, France, Mauritania, Queen Elizabeth II, Imperator, and Titanic. "Perhaps the most readable book on the subject ever to have appeared" --Country Life. Black-and-white photographs.
From the Publisher
Since writing The Only Way to Cross in 1972, John Maxtone-Graham has become one of the world's foremost maritime historians. This most recent reprint of The Only Way to Cross continues to transport readers back to the bygone maritime era, when dozens of express liners steamed in and out of New York and sailed across the North Atlantic, accommodating the rich on lavish upper decks and hordes of immigrants deep within their holds.
From discussing the vessels' engineering and architectural marvels to narrating the frightful stories of having to face perilous storms and fogs, Maxtone-Graham successfully documents the rich history these liners conjured up during their exciting journeys from port to port.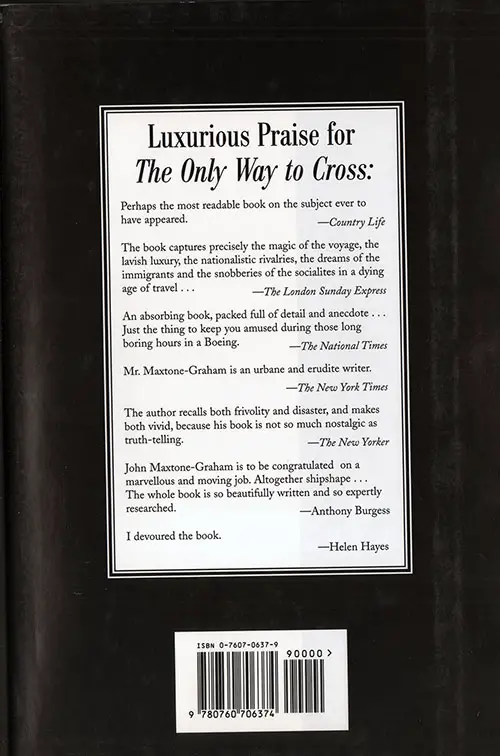 Library of Congress Catalog Listing
LC Control No.: 72075351
Type of Material: Book (Print, Microform, Electronic, etc.)
Personal Name: Maxtone-Graham, John.
Main Title: The only way to cross. With a foreword by Walter Lord.
Published/Created: New York, Macmillan [1972]
Description: xiii, 434 p. illus. 24 cm.
Notes: Bibliography: p. 425-428.
Subjects: Ocean liners.
LC Classification: HE566.O25 M38
Dewey Class No.: 387.5/42/091631