Norddeutscher Lloyd Bremen History - Volume 2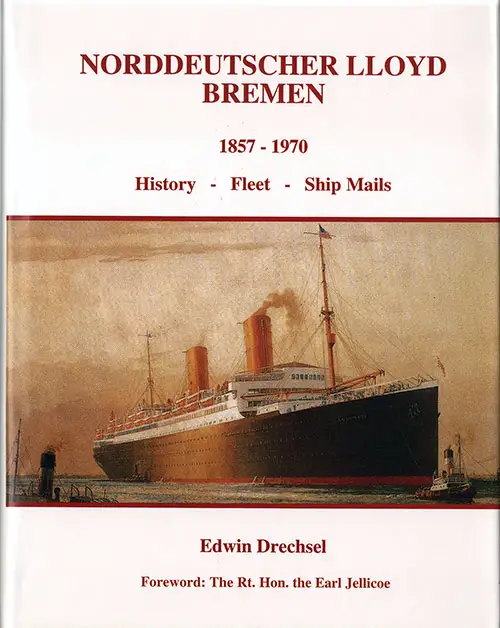 Drechsel, Edwin, Norddeutscher Lloyd, Bremen, 1857-1970, Volume 2, Vancouver BC: Cordillera Publihing Company (1995), 678 Pages.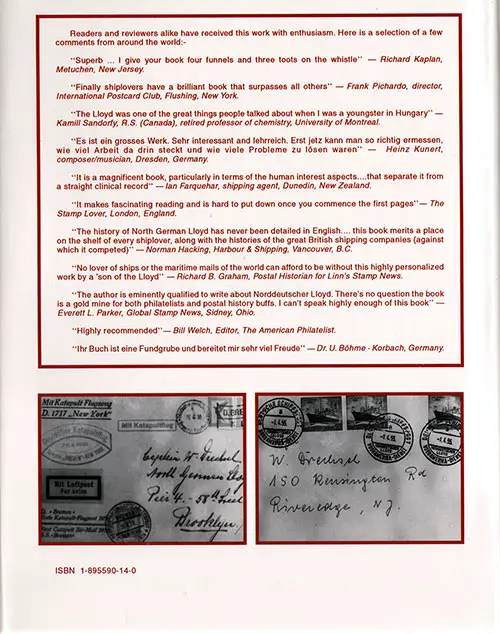 Description: The second volume begins with the years after World War One, The Great War, and the recovery after the war, starting from scratch to rebuild their steamship line. Although Norddeutscher Lloyd would again win the Blue Riband of the North Atlantic in 1929, the depression of the 1930s affected NDL as yet another crisis in ship ownership and management to which commercial shipping interests had always been prone. The ranks of transatlantic passenger carriers thinned out as large and small concerns went out of business.
After the second world war history repeated itself and once again German shipping assets were split up among the victorious allies, and again the company rebuilt it world trading fleet with fine new ships, but passenger carrying was never to be the same again.
Library of Congress Catalog Listing
Personal name: Drechsel, Edwin.
Main title: Norddeutscher Lloyd, Bremen, 1857-1970 : history, fleet, ship mails / Edwin Drechsel ; foreword, Arnold Kludas.
Published/Created: Vancouver, B.C. : Cordillera Pub. Co., c1994-c1995.
Description: 2 v. : ill. ; 29 cm.
ISBN: 1895590086 (v. 1) 1895590140 (v. 2)
LC classification: HE945.N727 D74 1994
LC Subjects: Norddeutscher Lloyd--History. Merchant marine--Germany--History. Mail steamers--Germany--History.
Notes: Includes bibliographical references and index.
LCCN: 95195117
Geographic area code: e-gx---
Canadian class no.: HE945 N75 D73 1994 fol. HE945*
National bib no.: C94-910327-6
Other system no.: (OCoLC)30357825
Type of material: Book