Anchor Line - Merchant Fleets #9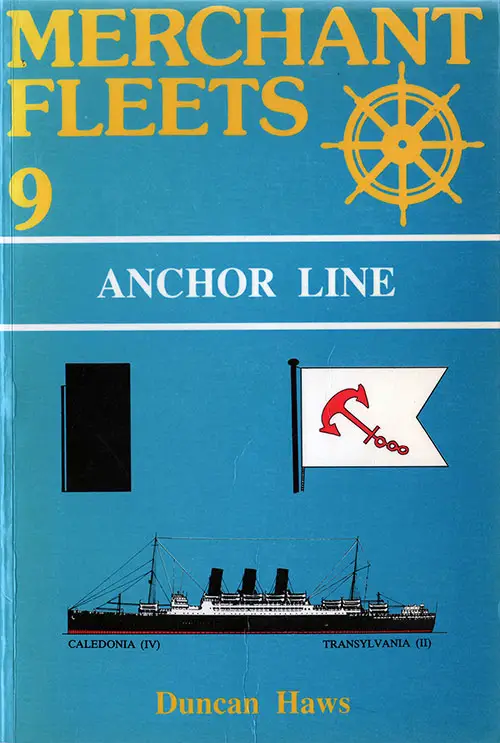 Author: Duncan Haws
Title: Merchant Fleets 9: Anchor Line
Edition:  
Format: Paperback
Pages: 98
ISBN: 0-946378-05-3
DCN:  
Publisher: TCL (Travel Creatours Limited) Publications
Location: Burwash, East Sussex, United Kingdom
Pub. Date: 1986
Language: English UK
Subjects: Merchant Marine--History
Description:
Notes: Ex Libris Michael T. Connell #12855
Size: 6 1/8" x 9 1/8"
Dust Jacket: No
List Price:  
Synopsis: Contains a chronology of the main events in the company's history and a full fleet list which includes detailed technical data and a brief history of each vessel. Copiously illustrated with Haws' specially produced scale profile drawings.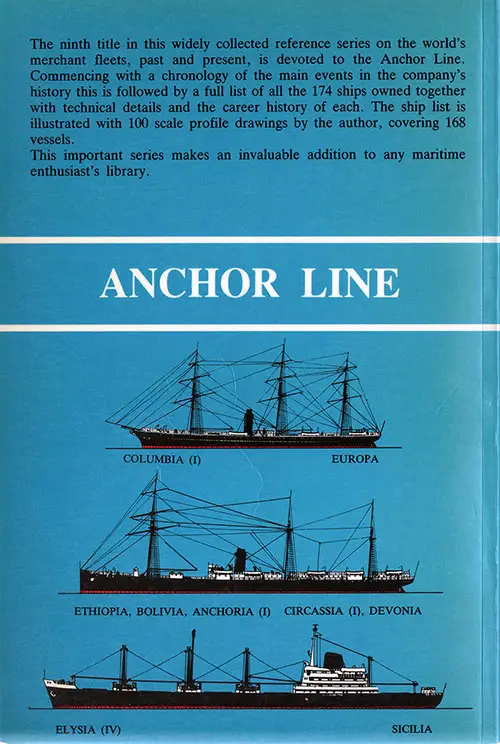 From the Back Cover
The ninth title in this widely collected reference series on the world's merchant fleets, past and present, is devoted to the Anchor Line. Commencing with a chronology of the main events in the company's history this is followed by a full list of all of the 174 ships owned together with technical details and the career history of each. The ship list is illustrated with 100 scale profile drawings the the author, covering 168 vessels.
This important series makes an invaluable addition to any maritime enthusiast's library.
Contents
Funnel and Flag Colour Details
Introduction
Explanatory Notes
Anchor Line Chronological History
Routes
Livery
Fleet Index
Illustrated Fleet Index
Library of Congress Catalog Listing
No Listing