Leviathan: "The World's Greatest Ship" Volume 5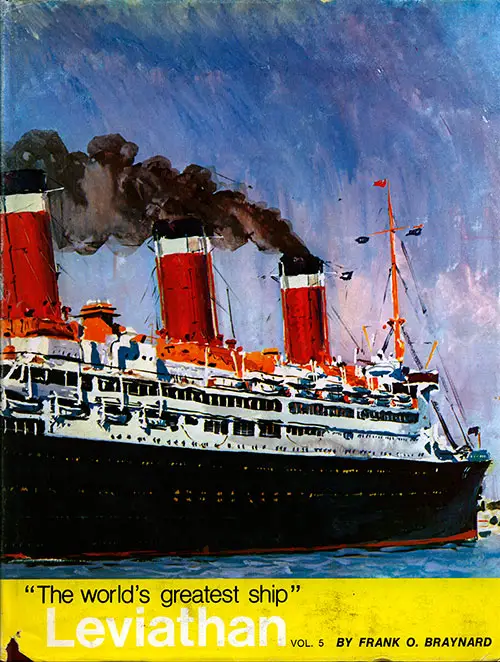 United States LinesL: "LEVIATHAN: The World's Greatest Ship, Volume 5", by Frank Braynard, published in 1981, hardbound with original dust jacket, 320 pages.
Braynard has created what is probably the most extensive history ever written about a single ship. His ground-breaking series covers 6 volumes.
This book is volume 5 and picks up the LEVIATHAN saga as the Great Depression starts and deeply cuts into passenger loads. The great ship produces nothing but red ink for USL and even bargain cruises do not help. The ship is put into lay-up and offered for sale. There are hundreds of great photos which makes for wonderful browsing and reading.
Detailed information on Volume 5 of the Leviathan .
Library of Congress Catalog Listing
Personal name: Braynard, Frank O. (Frank Osborn), 1916-2007.
Main title:

"World's greatest ship"; the story of the Leviathan, by Frank O. Braynard.

Published/Created:

[New York, South Street Seaport Museum, 1972-1983]

Description:

6 v. illus. (some col.) 29 cm.

LC classification:

VM383.L3 B7

Related titles:

Leviathan.

LC Subjects: Leviathan (Steamship)
Browse by shelf order: VM383.L3
Notes
On cover: Leviathan.

Vol. 4 has imprint: Newport News, Va. : Mariners Museum, [1978]

Vol. 5 has imprint: [Sea Cliff, N.Y.] : F.O. Braynard, [1981]

Vol. 6 has imprint: [Kings Point, N.Y. : American Merchant Marine Museum, U.S. Merchant Marine Academy, 1983]

Some ill. on lining papers.

Includes bibliographical references and indexes.

LCCN:

72085207

Dewey class no.:

87.2/43

Type of material: Book