Le Havre - New York: French Line - 1997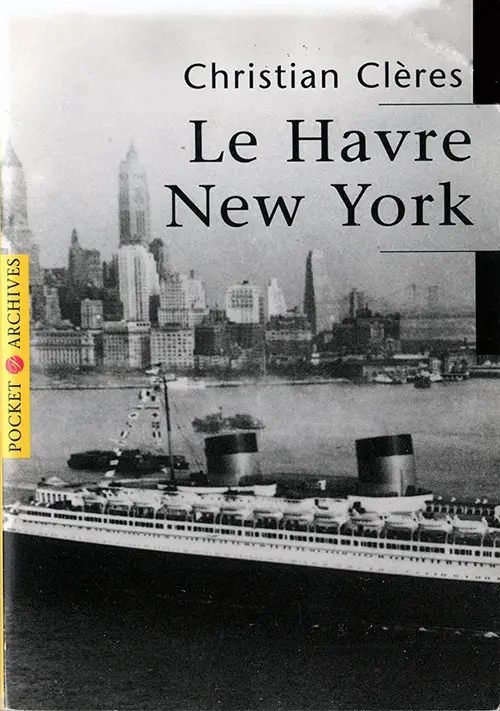 Le Havre - New York: French Lines by Christian Clères © 1997, ISBN 2850255858, 197 Pages, Paperback.
This volume about the French Line and its route from Le Havre to New York is a witness to crossing the Atlantic, from before WWI to the present day. A fascinating visual record of travel.
From the Publisher
The history of the French Line, the luxurious transatlantic ships which sailed between Le Havre and New York, is told in 150 illustrations. "Le Havre/New York" features unforgettable scenes of life on board these floating palaces, the immense organization of men and machinery necessary for maintaining these stately and romantic steamers.
Ship and maritime historian Christian Cleres has also reproduced many of the French Lines' fascinating original documents. This is a must for maritime historians and enthusiasts.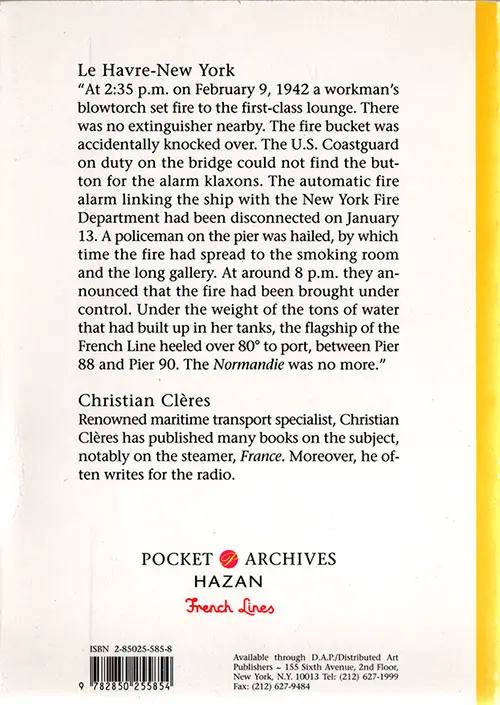 Library of Congress Catalog Listing
Personal name: Clères, Christian.
Main title: Le Havre-New York / Christian Cléres; translated from the French by David Britt.
Published/Created: Paris : Hazan, c1997.
Description: 197 p. : chiefly ill. (some col.); 15 cm.
ISBN: 2850255858
LC classification (full): VM381 .C58 1997
LC classification (partial): VM381
Subjects: Ocean liners--France--History--Pictorial works. Ocean travel--History--Pictorial works. Atlantic Ocean--Navigation--History--Pictorial works.
Series: Pocket archives; 7
LCCN: 00431072
Geographic area code: e-fr--- l------
Type of material: Book