Era of the Passenger Liner - 1992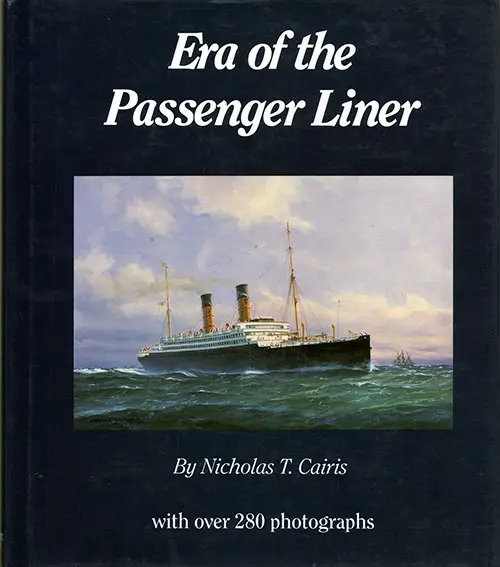 Author: Nicholas T. Cairis
Title: Era of the Passenger Liner
Edition:  
Format: Hardcover
Pages: 288
ISBN: 0-929624-03-3
DCN:  387.2'432'0904--dc20
Publisher:  Pegasus Books Limited
Location:  London, England, United Kingdom
Pub. Date:  December  1992
Language: English UK
Subjects:  1. Ocean liners -- History -- 20th Century. 2. Passenger ships -- History -- 20th Century. 3. Steamboat lines -- History -- 20th Century.
Description: With over 280 Photographs
Notes: Includes Index of Ships.
Size: 10" x 11 1/8"
Dust Jacket: Yes
List Price: US$49.95
Synopsis: Scarce, large format containing 288pp. Features photographs, statistics and background of 280 passenger liners each with a photograph.
From the Inside Flap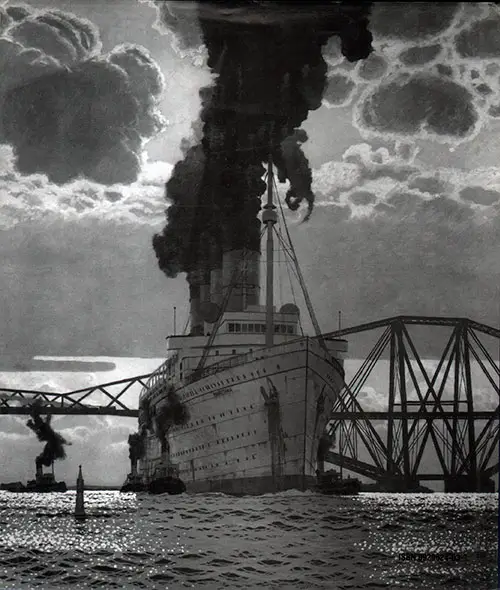 "After two decades of research the foremost book on the great passenger liners is here. Greatly expanded over two previous editions with an additional seventy ships spanning a century of ocean travel from inception to its demise. The gilded era comes back to life as the reader relives the careers of stately ships and express greyhounds from immigrant ship to floating palace."
Featuring pictures, statistics, and background of 280 passenger liners.
"The ultimate book for the shiplover" says Lloyd's List, London.
"Amidst the flotsam and jetsam of ocean liner books that bob up every so often none is more complete. The paragon book on the great liners, " The Times.
Jacket photograph, CunardLine's Caronia from an oil painting by Stephen J. Card.
Mr. Cairis has spent much of his life in the maritime world. His avocational interest in maritime history over the years has earned him the position of expert and three books to his credit: North Atlantic Passenger Liners, Passenger Liners of the World, and Cruise Ships of the World.
Back jacket photograph, The Mauretania on her last voyage to the breakers' yard from an oil painting by Charles E. Pears, P.S.M.A., R.O.I. (Shown above)
Pegasus Books Ltd.
70 Bishop Allen Drive Cambridge, Massachusetts 02139
Contents
Preface
Explanatory Notes
Bibliography
Titanic
Austro-Americana Line
Cunard Line
French Line
Greek Line
Holland-America Line
Home Lines
Italian Line
North German Lloyd
Norwegian-America Line
Polish Ocean Lines
Portuguese Line
Red Star Line
Russian State Lines
Scandinavian-American Line
Spanish Line
Swedish-American Line
United States Lines
Zim-Israel Lines
Index
Library of Congress Cataloging-in-Publication Data
Cairis, Nicholas T.
Era of the passenger liner/by Nicholas T. Cairis.
p. cm.
Includes bibliographical references and index.
ISBN 0-929624-03-3
1. Ocean liners-History-20th century.
2. Passenger ships- History-20th century.
3. Steamboat lines-History-20th century.
I. Title.
VM381.C27 1992 92-8575
387.2'432'0904-dc20 CIP
Library of Congress Catalog Listing
LC Control Number: 92008575
Type of Material: Book (Print, Microform, Electronic, etc.)
Personal Name: Cairis, Nicholas T.
Main Title: Era of the passenger liner / by Nicholas T. Cairis.
Published/Created: London; Boston : Pegasus Books, c1992.
Description: 288 p. : ill.; 29 cm.
Cancel/Invalid ISBN: 0929624033
Notes: Includes bibliographical references (p. 7) and index.
Subjects: Ocean liners--History--20th century. Passenger ships--History--20th century. Steamboat lines--History--20th century.
LC Classification: VM381 .C27 1992
Dewey Class No.: 387.2/432/0904 20
CALL NUMBER: VM381 .C27 1992