Classic Ocean Liners, Volume 1: Berengaria, Leviathan, & Majestic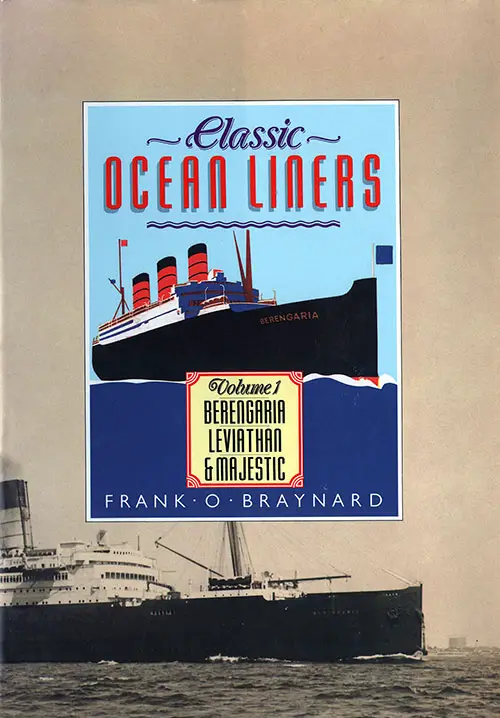 Front Cover, Classic Ocean Liners, Volume 1: Berengaria, Leviathan, & Majestic by Frank O. Braynard, © 1991. GGA Image ID # 19e8f41bd5
Synopsis: An absorbing and detailed account of the three ships: Berengaria, Leviathan, & Majestic, 50,000 ton dinosaurs of the transatlantic lines in the years before World War I.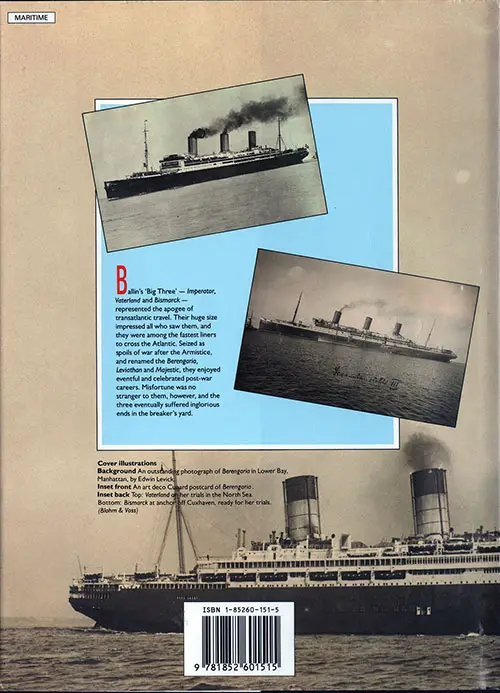 Back Cover, Classic Ocean Liners, Volume 1: Berengaria, Leviathan, & Majestic by Frank O. Braynard, © 1991. GGA Image ID # 19e9566bb9
Inside Dust Jacket Flap
Conceived in the period of German maritime expansion in the tumultuous years just before the First World War, the construction of the Imperator, Vaterland and Bismarck represented an attempt by one man, the shipping genius Albert Ballin, to monopolize the lucrative Hamburg-New York passenger traffic with his Hamburg American line, destined to become the world's largest shipping line.
When launched, the three sister ships, all 50,000-tonners, were the largest passenger vessels ever built. Many aspects of their design represented important advances on contemporary practice, and meant that Ballin's 'Big Three outclassed all that had gone before, and were among the fastest liners to cross the Atlantic. Paradoxically, there were also certain serious design flaws. Their sheer size, however, impressed all who saw them, and symbolized the mood of confident assertiveness which was characteristic of the Kaiser's Germany.
Completed just before the outbreak of war, Imperator and Vaterland had barely finished their maiden voyages, which were accomplished in glittering style, when hostilities doomed them to idleness. The Vaterland lay in New York harbor until America entered the conflict, when she was seized, renamed Leviathan and served as an American troopship with great glory. After the Armistice, the Imperator and Bismarck were taken by the British as reparations, being renamed Berengaria and Majestic respectively.
Steaming under the flags of Germany's erstwhile enemies, the three ships enjoyed eventful and celebrated post-war careers, setting new standards in transatlantic travel. They were hugely expensive to operate, however, and the 1920s and 1930s were difficult times. Eventually, and before their time, the three suffered sad and ignominious ends in the breaker's yard.
Packed with a wealth of contemporary illustrations, this is an absorbing and splendidly detailed account of the lives of three of the world's most remarkable passenger ships.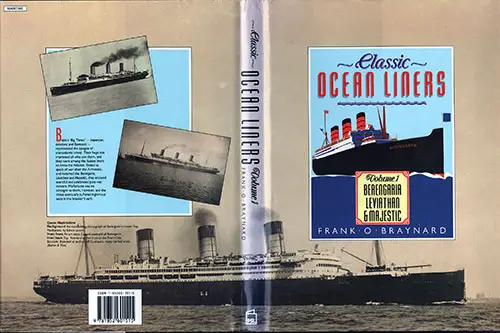 Dustjacket - Classic Ocean Liners, Volume 1: Berengaria, Leviathan, & Majestic. GGA Image ID # 19e98f8e20
Catalog Listing
Author: Frank O. Braynard
Title: Classic Ocean Liners, Volume 1: Berengaria, Leviathan, & Majestic
Edition:  Reprint
Format: Hardcover
Pages: 176
ISBN: 1-85260-151-5
DCN: 387.2'432
Publisher: Patrick Stephens Limited
Location: Wellingborough, Northamptonshire, United Kingdom
Pub. Date: February  1991
Language: English UK
Subjects: 1. Shipping
Description: Fully illustrated, index
Notes: Size: 8" x 11"
Dust Jacket: Yes
List Price: GB £ 20.00