Amerikabåtene

... Passenger Ships of the Norwegian-America Line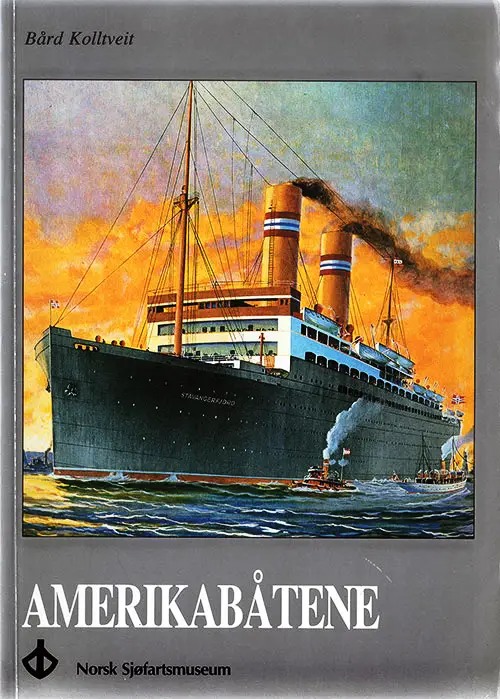 Front Cover, Amerikabåtene (Passenger Ships of the Norwegian-America Line), 1984. GGA Image ID # 19c5fbc5ab
From the former Director of Research at the Norwegian Maritime Museum, a book about the passenger ships of the Norwegian America Line brought immigrants from Norway to America. The book is a tribute to those who worked on board the ships of the Norwegian America Line to America. It is also a tribute to thousands that were on the wharf to see the NAL ships arrivals and departures.
In the 19th century and until World War II, 800,000 Norwegians emigrated to the United States by boat. The dream of a better life led them across the Atlantic, and many never saw their hometown or loved ones again.
Initially, people traveled for religious and political reasons. The great wave of emigration, on the other hand, started in the countryside which eventually became overpopulated.
There was probably a great deal of tension associated with the voyage to America, but where today's boat refugees experience chaotic conditions, the emigrant traffic of that time was very well regulated. Everyone who traveled had to have a written contract with what was called a shipping agent. The shipping agent was responsible for all parts of the voyage, transport ships and trains.
From 1913 you could travel directly from Oslo to New York with the Norwegian American Line. And in 1919, the company was established with ticket sales and luggage handling in venerable premises on Jernbanetorget. The Great Emigration ended with World War II. Better conditions in Norway, regulated working hours, holidays, and better sanitation and housing conditions, led to more people remaining.
Catalog Listing
Author: Bård Kolltveit - Former Director of Research at the Norwegian Maritime Museum
Title: Amerikabåtene (American boats)
Edition:
Format: Paperback
Pages: 112
ISBN: 82-90089-14-7
Publisher: Norwegian Maritime Museum, 1984 (NorskSjøfartsmuseum skrift nr. 44)
Location: Oslo, Norge
Pub. Date: 1990 ( © 1984)
Language: Norwegian
Subjects: History of the Norwegian America Steamship Line.
Description: American Travel | Emigrant History | Emigration | norge | emigrant history | emigration | emigration | the trip to america
Notes: With a summary in English Special edition of: Årbok / Norsk Sjøfartsmuseum, 1983
Size: 6 3/4" x 9 1/2" 112 pp. 24 cm
Dust Jacket: No
Dewey Decimal: 387,506