GG Archives Best Site Awards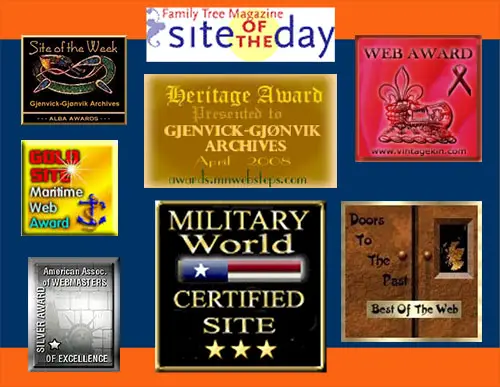 Site Citations and Awards for having a "Best Site" is an impressive achievement. Below are several examples of Website Awards earned by the GG Archives over the years.

Site of the Day
Congratulations! Family Tree Magazine at https://familytreemagazine.com/ has chosen Passenger Lists of the Gjenvick-Gjønvik Archives at www.ggarchives.com/OceanTravel/Passengers.html as Site of the Day for 18 March 2003 because we think it will be a wonderful online resource for our readers. If in the future you add a new, significant feature to your site, please let me know. We may feature your site again as Site of the Day because of the additional value to our visitors! Please contact me if you have any questions. Again, we salute your excellent site and hope it continues to grow in the future!

Lori Goetzinger
Editorial Assistant
Family Tree Magazine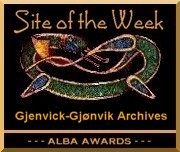 2008-10-21 Alba's Site of the Week Award
Dear Paul,
As I traveled your website I appreciated
how easy it was to navigate the pages and
your dedication to cover so many topics!   Great
work.
So ... attached is Alba's Site of the Week award.

Sith agus Slainte bha!
(Peace and Good Health to you!)
Margaret,
Alba Awards

A Celtic Heart Remembers
www.acelticheart.com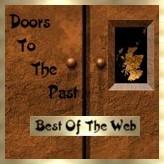 2008-10 A Celtic Heart Remembers Genealogy Best of the Web Award
Dear Paul,
Thank you so much for inviting me to view your website, you have done a marvelous job creating a site that is interesting and safe for all members of the family to enjoy!

Attached is the award you requested.  

I wish you well in all your endeavors.
Sith agus Slainte bha!
(Peace and Good Health to you!)

Margaret,
Alba Awards

A Celtic Heart Remembers
www.acelticheart.com

2008-05 American Association Of Webmasters Silver Award
Paul,
The American Association Of Webmasters Awards are primarily designed to supply formal recognition to webmasters and designers who have shown outstanding achievement in web design, content and creativity.
Congratulations! Your site at: The Gjenvick-Gjønvik Archives has been selected to receive The American Association Of Webmasters, "Silver" Award.
We see all the hard work and dedication that you have put into constructing your web site and your efforts are well deserved. Your site displays: A nice clean Design and Layout of Website, with quality content and informative information for your visitors.
Congratulations once again on a wonderful website and contributing interesting content to the World Wide Web We wish you all the best.
Sincerely,
Donna Snyder - CEO
Awards Committee - American Association Of Webmasters Rated With AS! 5.0 - World's Elite Award Listed In "The Webmasters Guide To Glory"
CEO of - The World Wide Web Awards
Member of The Better Business Bureau

2008-05 Vintage Kin Red Ribbon Award
Congratulations Paul,
Vintage Kin is pleased to award to the Gjenvick-Gjønvik Archives our Red Ribbon Award; sites in this category display an advanced level of web design; provide outstanding site content; and offer exceptional value to the genealogical community. Well done!
Your award graphic is attached and your site has already been added to our list of 2008 award recipients. An additional link has been placed on our links page. Kind Regards
Ric (Vintage Kin Genealogical Design Studio) vintagekin.com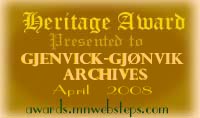 2008-04 Heritage Awards for Genealogical Websites
What an interesting website! The information provided is thorough and well-documented. Excellent photos, a real treasure chest of information for anyone interested learning more about the voyages from Europe to America.
I'm pleased to attach our gold award and the summary review worksheet. All of our reviewers rated your site highly, and you can be rightly proud of the great resource you've created for internet researchers!
WEBSITE FINAL SCORE 100
Gold: 91-100 points
DATE OF NOTIFICATION: 19-Apr-2008 COMMENTS This website offers detailed information about the ships and the process of immigration. A valuable source for anyone interested in genealogy or immigration history.

2008-03 The Maritime Web Awards NON-EUROPEAN WINNERS
The Maritime Web Site Award is completely free and exists to promote the maritime world on the internet. Anyone can apply to have their non-commercial maritime websites considered HERE. The Gjenvick-Gjønvik Archives, a website outside of Europe has recently applied for, and has been granted the prestigious GOLD award as they have proven to display an exemplary, informative maritime content.

Military World Certified Site Award
Military World is pleased to announce your site has been
reviewed and you have won our Certified Site Award.
The sites are judged on content, functionality, graphics and usefulness
to the general public. We spend a lot of time reviewing sites and not
all make the grade. You have done a great job, keep up the good work!

Thank You,
Military World
2003-08-15